Image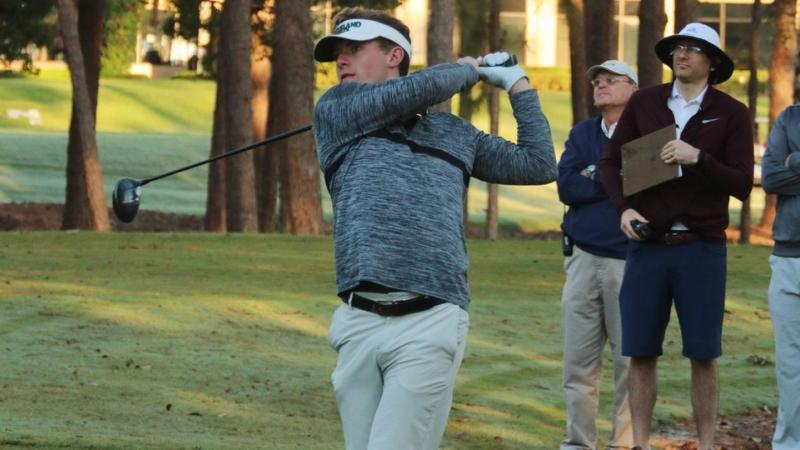 Credit: Cleveland State Athletic Department
Jules Blakely notches hole-in-one as CSU men's golf finishes 6th in the Turning Stone Tiger Intercollegiate Tournament
Cleveland State men's golf opened up their season with some momentum and one unforgettable shot from senior Jules Blakely as he notched a hole-in-one while helping the Vikings come in sixth place out of 15 teams at the Turning Stone Intercollegiate Tournament Sept. 5-6. 
Blakely's memorable moment came on the par-3, 5th hole during his second day of action at the Kaluhyat Course. He finished the second day with a round of 76 and a total score of 224 to finish 31st overall. Cleveland State finished with team scores of 293-296-305. 
The par score is 72 on the Kaluhyat Course.  
Vikings head coach Steve Weir lauded his team's opening effort and was happy to see his senior hole out.
"I will say, it was incredible for Jules Blakely to get his first hole-in-one!" Weir said.
"I'm a little disappointed in today's round, but overall a great start to the season," Weir told Cleveland State athletics after the outing. "We have plenty to learn from and get better for our next tournament at Marshall."
Cleveland State senior Zach Robbins also had a strong showing of 70-73-78, finishing in 22nd place, while sophomore Mason Frazier shot 77-72-77 to finish in 34th place. Sophomore David Laib and senior Zak Supelak finished 43rd and 50th respectively. 
The Vikings shot a 54-hole total of 894 and hovered around sixth place for most of the tournament. Cleveland State finished in front of Boston College, Towson and St. Francis- Pennsylvania amongst others. They were just behind Delaware and Duke, which finished in fifth and fourth place respectively.  
Missouri, the tournament's host, captured the crown as they tallied a -17 with a total team score of 847. The LSU Tigers were two strokes ahead with a -15 and a total of 849. The two teams were the only program's to finish the tournament under par.