Image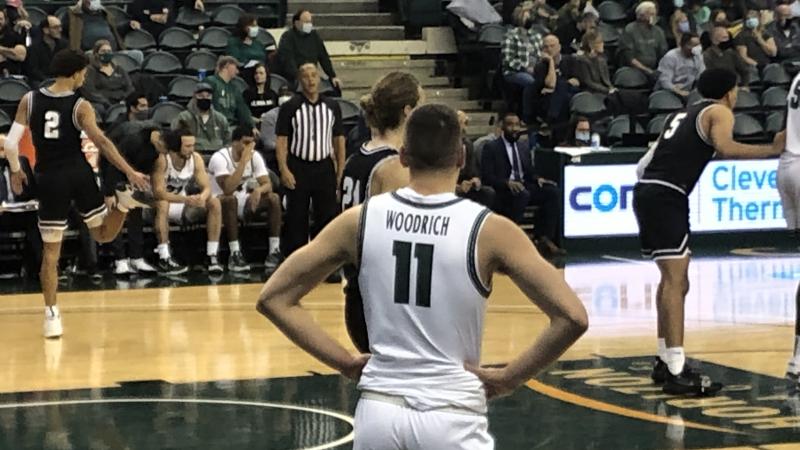 Credit: Robert Fenbers
Jayson Woodrich catches fire, sparks Vikings win over Wright State
With victory in this Horizon League showdown, CSU has now won six straight as the Vikings prepare for a rugged road trip against Oklahoma State and Duke.
Whenever his number is called, Jayson Woodrich is ready.
The sophomore wing proved it once again as he provided the Vikings with a spark from beyond the arc, lifting Cleveland State over Wright State, 85-75, in a Horizon League matchup at the Wolstein Center on Saturday. 
Cleveland State (6-2, 2-0) is riding a six-game winning streak and have won two straight in league play. The Vikings and Raiders split the Horizon League regular season title last season. 
Five Vikings scored in double figures, including seniors D'Moi Hodge and Tre Gomillion with 14 and 13 points respectively. But it was the sophomore who led the way. Woodrich finished with 17 points on 5-of-7 from three-point range. 
Head coach Dennis Gates called on the 6-foot-7 sharpshooter five minutes into the contest and Woodrich showed why. With the Vikings trailing 12-9, the Beachwood native strung together a barrage of 3s which turned into 11 points in a four-minute span as the Vikings took a 30-18 lead.
He checked out and high-fived his teammates, his work done, for now. 
"I think the biggest thing for me is I trust what coach is doing," Woodrich said. "I know my role. The biggest thing he always preaches to me is stay ready, whether I'm playing two or 20 minutes."
Gates lauded the performance, knowing the best is yet to come from his sixth man. 
"At some point Jayson Woodrich will average 20 points per game," he said. "This journey that he is on right now is allowing him to become that." 
Woodrich's performance was part of another strong showing from the bench, as the Viking subs outscored the Raiders, 37-6. 
Gates challenged his charges to put on a matinee show for the couple of thousand fans in attendance. Cleveland State responded with another 40 minutes of clean basketball, tallying 22 assists while shooting over 55 percent from the field. 
"They were locked in from the beginning to the end," Gates said. "I challenged them, no matter what minute, what second I called you… I challenged them to make every second, all the way up to 4800 (seconds of the season) unbelievable, and they did that." 
Pacific University transfer Broc Finstuen made his presence known too, tallying 11 points and six rebounds. Finstuen has been a perfect fit coming off the bench for Gates, who had been eyeing him since his junior college days. 
Finstuen and Woodrich are potent weapons in the reserve arsenal. 
"We've got sitting right here two guys that could easily be sixth man of the year, no doubt," Gates said. "I know that because of where their heart, where their spirits and unselfishness lie." 
The parents of Finstuen, Woodrich and Gomillion were all present to watch their sons shine. Gates later invited them to the postgame interview session. 
"They trust me with their sons, they are family and I appreciate them," Gates said, explaining why he'd brought them backstage.
Wright State (2-6, 1-1) trimmed the lead to five on a few occasions but never could break through Cleveland State's relentless defensive prowess. Raiders guard Trey Calvin finished with a game-high 28 points while forward Grant Basile did his damage in the paint with 23 points and 15 rebounds. 
Cleveland State's reigning Horizon League Defensive Player of the Year, Gomillion, stepped up alongside his teammates to shut down the Raiders' other scoring threat, Tanner Holden. The lethal guard had not been held under 17 points in any game this season. He mustered just five on Saturday afternoon. 
"I covered everybody," Gomillion joked. "It wasn't just me, it was a team thing. "D'Moi started out on him, and it was a 1-4 switch. I can't take no credit for holding Tanner to five, but I knew when I got on him, I knew that wasn't happening." 
Gomillion's running mate, senior Torrey Patton, provided the Vikings with 10 assists and eight rebounds while also adding four points.  
Cleveland State took a 45-33 lead into halftime as Cleveland Cavaliers stars Darius Garland, Denzel Valentine and Lamar Stevens sat courtside to check out the second half. 
"Whenever you have Cleveland Cavaliers players sitting in the first row, that means you are doing something correct," Gates said. "Basketball is a fraternity, and when you are able to produce energy in a building, people want to come and see what it's about."
With Wright State again trying to close the gap, Woodrich checked in two minutes into the second half and provided a pair of 3s to help CSU extend their lead to 61-50 with 13:36 left to play.
Wright State continued to stay close thanks to a pair of long-range shots from Tim Finke, who finished with nine points. Basile also continued his attack, helping carve the lead to 69-63, but Finstuen came away with a pair of buckets and free throws to stretch the lead back. 
"This is the reason why he (Finstuen) decided to leave Pacific, where he was starting, to come to a place where he wasn't guaranteed anything, and he is okay with coming off the bench," Gates said. "That is what our bench is all about." 
Deshon Parker also added 10 points off the bench, while the Vikings finished 9-of-18 from deep.  
Up next for Cleveland State is a rugged back-to-back as the team travels to Oklahoma State (Dec. 13), then Duke (Dec. 18). 
Coach Gates has prepared his young men for this moment as they opened the season at a raucous BYU. 
"When me and (Athletics Director) Scott Garrett sat down to figure out our basketball schedule, we wanted to put our guys in the best situations," Gates said. "Allowing our team to travel to BYU, a top five home court experience you will ever have… that's something these guys will always remember, but in that moment, we learned something about ourselves that's going to show up at some point."