Image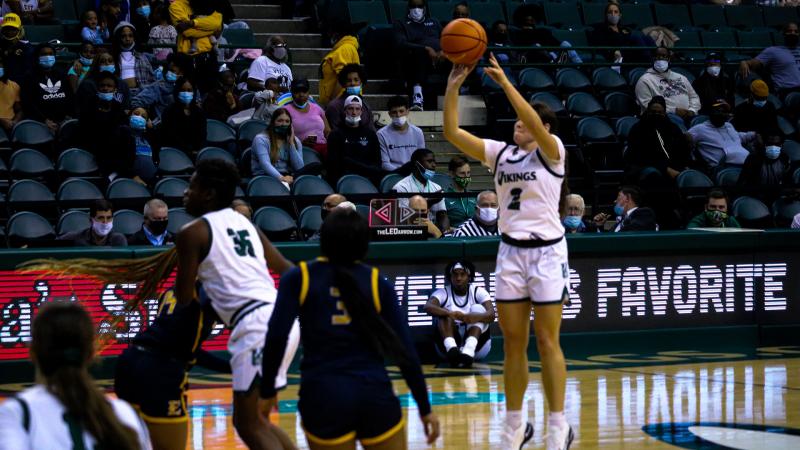 Credit: Matt Thomas
Destiny Leo lights it up as CSU women's basketball routs ETSU in season opener
"That second-half didn't look like it was the first week of the season for us," head coach Chris Kielsmeier said of CSU's impressive performance on opening night. The Vikings defeated East Tennessee State, 81-54, at the Wolstein Center.
Cleveland State women's basketball opened up the season with a strong team performance as they defeated East Tennessee State, 81-54, in a non-conference matchup at the Wolstein Center on Tuesday evening.
After taking a 32-29 lead into the break, Cleveland State exploded into midseason form in the second half, outscoring ETSU, 49-25. 
"That second half was one of the best halves of basketball I have seen in quite some time," Cleveland State head coach Chris Kielsmeier said. "Our transition really fired, our defense was extending out into people, and those passing lanes. And we were able to get our transition game going, and we just controlled the game."  
The Vikings (1-0) were led by the hot hand of Destiny Leo. The sophomore guard notched three 3s in the opening minutes of the game, helping the Vikings jump out to an 11-2 lead. Cleveland State spent the rest of the night trying to fend off the pesky Bucs (0-1).
"We were all really excited to get out there," Leo said. "It's always important for us to get out to a good start. I'm pretty sure almost all of those 3s were in transition and we have been preaching to get the ball out in transition and get the good shots." 
Leo finished with a game-high 24 points, five rebounds and four assists, including 5-of-7 from deep and 7-of-7 from the free throw line. 
She continues to blossom into a versatile basketball player. 
"Destiny is learning to play with the ball in her hand in the backcourt getting into the frontcourt a lot more than we thought was going to happen when we recruited her," Kielsmeier said. "She's learning that playmakers make plays, no matter where you are in the system." 
Despite suiting up only nine players, it was a total team effort as Brittni Moore, Isabelle Gradwell and Nadia Dumas combined for 34 points and 16 rebounds.
"This basketball team is really close and really cares about each other," Kielsmeier said. "They are very unselfish." 
The Vikings controlled most categories on the night, including a 22-9 points off turnover advantage and a 19-10 second chance points advantage. Cleveland State's bench posted 31 points while ETSU mustered 20 from their bench.    
The Vikings offense went through some dizzy spells as East Tennessee State's Damiah Griffin notched a pair of baskets setting up Amaya Adams' go-ahead free throw to briefly give the Bucs a 26-25 lead in the second quarter.
Griffin led the Bucs with 13 points while Jaila Roberts added 11 points. 
Kielsmeier enjoyed seeing the women respond to adversity for the first time this season. 
"The game sometimes can go against you so easily in such a small way," he said. "It wasn't like we were making big mistakes, but they really got on us transition-wise ... We felt like if we got them in a half-court set, and didn't beat ourselves, they were going to really have a hard time scoring against us."   
To round out the half, the Vikings dug in with a surge to the basket from Gradwell, helping them take a 32-29 lead into the break.
Cleveland State's Isabelle Gradwell drives under the basket for the score. Photo Credit: Matt Thomas
The Bucs nipped at the heels of the Vikings in the third quarter, trimming the lead to eight with their aggressive play before Leo swung the pendulum once again, notching her fifth 3-pointer to give the Green and White a 56-44 lead at the end of the quarter.
"It was certainly a tough shot, but it was also a system thing," Kielsmeier said. "We knew exactly where we were going with that ball. We don't know who's going to shoot it, but we know Destiny is going to make the read off of it, and then we just funneled that into the start of the fourth." 
The Vikings pulled away in the final frame, beginning the fourth quarter on an 11-2 run. CSU notched a pair of 3s in the quarter, finishing 9-of-21 from deep. They outscored ETSU 25-10 to close out the game.  
"Everybody wants to shoot and everybody wants to score, but if you are about each other and you want  to win, then it becomes about something much bigger than yourself, and that's the group we have this year," the head coach said.
CSU clamps down against East Tennessee State. Photo Credit: Matt Thomas
CSU honors its 2020-2021 championship squad and staff
Cleveland State honored the 2020-2021 women's basketball team by unveiling their Women's Basketball Invitational championship banner during the pregame festivities. The banner included last year's roster and coaching staff as well as the athletic department staff. 
CSU unveiled its 2020 Women's Basketball Invitational championship banner. Photo Credit: Matt Thomas.
The Vikings continue their six-game homestand as they host St. Bonaventure on Saturday Nov. 13 for a 3 p.m. start.