Image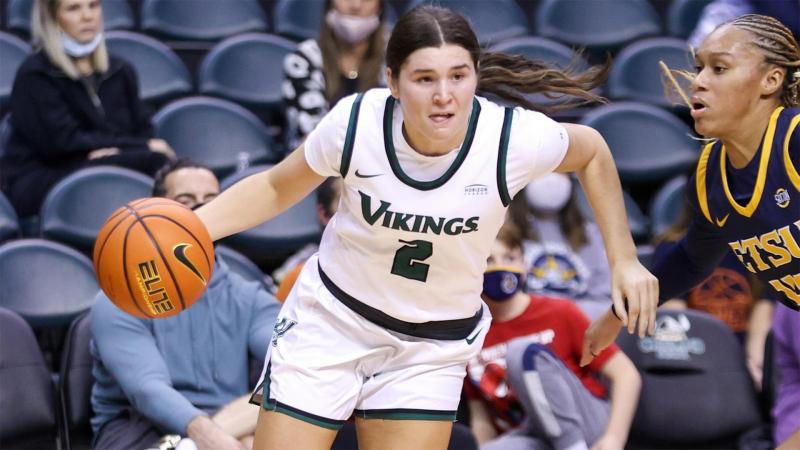 Credit: Cleveland State Athletics
CSU women's basketball remains undefeated with win over Northern Kentucky
The Vikings put on a stellar defensive performance in the 63-52 victory, holding the Norse to one point in the last four minutes of the game.
Cleveland State women's basketball kept on rolling Friday with a 63-52 win on the road over Northern Kentucky. The Vikings had to battle to earn their seventh straight win, pushing their record to 8-0 (includes forfeits) for the season and 4-0 in Horizon League play.
In the first quarter, it was a defensive battle as the Vikings were held to only four points in the first seven minutes and the Norse were held to seven points. Cleveland State star Destiny Leo did not score her first basket until the 2:58 mark, when she would drill the first of back-to-back triples.
Those threes tied the game then gave the Vikings the lead. CSU's defense would bend a little, allowing the Norse to take a 13-12 lead into the break. 
The second quarter was all about Leo who put on a show, scoring nine of Cleveland State's 21 points in the quarter. All four of her baskets came on layups. Amele Ngwafang, Deja Williams, Nadia Dumas and Brittini Moore combined to score the other 12 points of the period. 
The red-hot Vikings went into the halftime break with a 33-29 lead.
Cleveland State's defense ramped back up in the third quarter, holding Northern Kentucky to nine points. The Norse shot 3 of 15 from field goal range and 0 for 3 from three-point range. 
Leo added another six points in the period off a 3-pointer and a layup that drew a foul and a +1 opportunity. The Vikings took a 47-38 lead into the break.
The Norse, playing at home, refused to go away, coming back with a 7-0 run in the first two minutes of the final quarter, bringing Northern Kentucky within 2. The two teams would then trade baskets before the Norse tied the game at 51-51 with 4:53 remaining.
Cleveland State steadied as the Vikings' defense held the Norse to one point in the final minutes. Leo and Gabby Smith went on a game-clinching 12-1 run to put the game away, each scoring 6 points.
Top performers:
Leo had 31 points on 11-15 shooting from the field and was 4-7 from the three-point line. Deja Williams and Smith chipped in 8 points each coming off the bench for the Vikings.
Next up:
The Vikings stay close to home and play at Akron on Dec. 12 and then they hold a two-game homestand versus Hofstra (Dec. 18) and Loyola Chicago (Dec. 21).
The Vikings had been scheduled to play Horizon League opponent Wright State on Dec. 5. However, that game was forfeited due to a positive COVID case in the Wright State program.