Image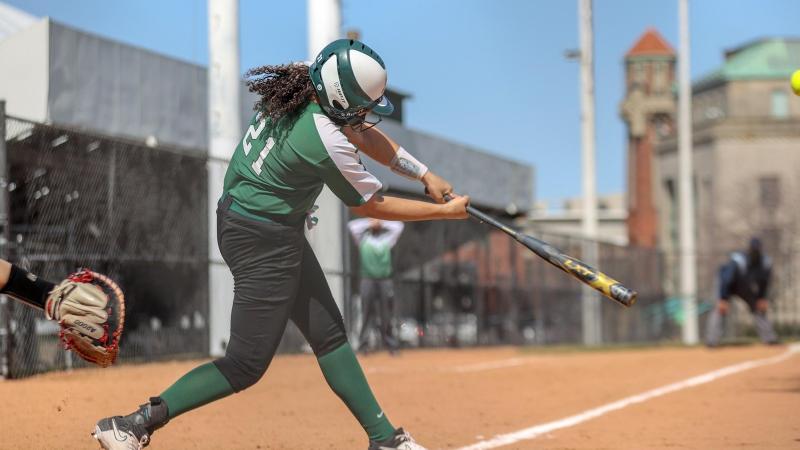 Credit: CSU Athletics Department
CSU softball drops doubleheader, splits second set of games against IUPUI
The Vikings dropped a doubleheader of games against the IUPUI Jaguars on Saturday, but were able to salvage some pride after they split their second set of games on Sunday.
Game One - Saturday, March 20
Hanna Griffin was locked in for the first three innings, holding IUPUI hitless while grabbing a strikeout and surrendering one walk. 
However, an error by Cleveland State put runners at the corners with no outs in the fourth inning. Vikings Head Coach Amy Kyler shuffled her infield, moving all four players to new positions, which settled the Vikings' defense.
The Jags took a 2-0 lead in the same frame on an RBI single and a fielder's choice on a ball hit back to the mound. The Vikings threatened with consecutive walks by Taylor Duncan and Alexa Sieger in the bottom of the fourth, but IUPUI ended the threat with a pair of strikeouts.
The fifth frame saw the Vikings nearly break out when Jenna Deang singled and stole second before Sydney Bajusz doubled to right center, advancing Deang to third to put a pair of runners in scoring position with only one out. Jaguars starting pitcher Lexi Lucas, who went the distance, forced an out in foul territory before a pop-fly to center ended CSU's attempt to rebound.
CSU's Griffin breezed through the fifth and sixth innings, but ran into trouble in the seventh, allowing a two-run single for a 4-0 IUPUI lead, prompting Torrie Jenkins to take over in relief. The Jaguars added two more runs on a pair of ground balls, putting the Vikings down 6-0.
After the Vikings' first two hitters reached base in the bottom of the seventh, Aly Packish launched a three-run bomb over left field to cut the deficit in half at 6-3. 
Duncan and Sieger kept Cleveland State's hopes alive with back-to-back two-out singles to put the tying run at the plate, but the Jags escaped from the jam with a game-ending pop up.
Packish went 2-4 with a home run and three RBI's while Duncan notched a 2-2 game, drawing a pair of walks.
Game Two - Saturday, March 20
CSU's Taylor Betz dazzled in throwing her third complete game of the year despite walking nine batters. She held IUPUI to only one earned run on three hits while striking out a season-high seven batters. IUPUI drew four walks in the fourth frame of play to take a 1-0 lead before scoring a pair of insurance runs on an RBI double and a wild pitch in the sixth, making it 3-0.
The Vikings' Valeri Broschk was noted as making her second start of the season at third base and played well, recording three assists and a putout en route to a perfect fielding percentage.
Game One - Sunday, March 21
Looking to salvage the series, Cleveland State grabbed a 1-0 lead in the opening frame when Packish rode a 2-2 pitch over the left field fence, marking her second homer for the weekend.
IUPUI evened it at 1-1 with an unearned run in the third. CSU's Duncan was hit by a pitch before moving to second on Sieger's single to left center. After Courtney Fernette reached base on a fielder's choice and Duncan was ruled out on an interference call, Jenkins cranked her team-high tying third long bomb of the season, to center field.
The Jaguars would crawl back within 4-2 in the top of the fifth, but in the bottom of the frame, Kiera Frascone drew a leadoff walk before advancing on to second on Bajusz's single to right field. After both players pulled off a double steal of second and third, Cleveland State scored when Packish reached home on an error.
Following Gabby Shackelford's walk to load the bases, Duncan snuck a single through the left side of the infield to bring Bajusz home. Sieger followed it up with a blooper down the right field line which scored all three base runners for an imposing 9-2 lead.
With runners at the corners after Deang drew Cleveland State's third walk of the inning, Frascone gave the Vikings a 10-2 win with an infield RBI single.
Jenkins took charge in Cleveland State's five-inning victory, tossing a complete game while surrendering only one earned run on six hits to go along with her three-run homer in the fourth.
The Vikings won via the run rule for the first time this season. The rule states that a game is called if one team is ahead by 20 runs after three innings, 15 after four, or seven after five innings.
Game Two - Sunday, March 21
IUPUI flipped the script in the series finale, holding CSU to only one run on a pair of hits.
Vikes starting pitcher Jenna Watts held the Jaguars to two hits over three scoreless frames to open the game but gave up a leadoff homer in the fourth before allowing three consecutive batters to reach base, prompting a pitching change.
Betz limited the Jaguars to only one run after forcing a pair of groundouts to keep Cleveland State in the game at 1-0.
The Vikings had their first hit of the game when Duncan struck a single to right center before advancing into scoring position on a wild pitch. But she was unable to score.
IUPUI then exploded, ending any chance of CSU evening the weekend series.
IUPUI scored eight runs over the fourth, fifth and sixth innings to pull ahead 8-0 entering the bottom of the sixth. The Vikings showed signs of life on Shackelford's RBI sac-fly, but the Jags hung on for an 8-1 final score.
The Vikings wrap up their road trip with a pair of doubleheaders on Friday and Saturday against Northern Kentucky.