Image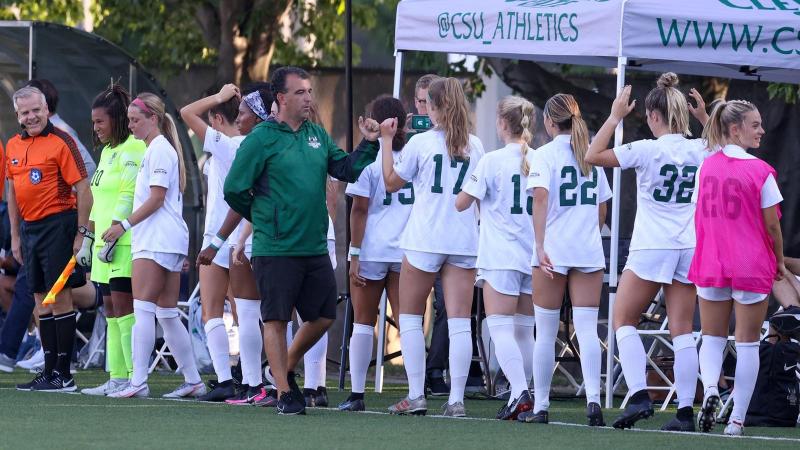 Credit: Cleveland State Athletic Department
CSU Soccer: Men continue to roll, women win in thrilling fashion over the weekend
The men's team have won three straight and remain undefeated in league play; The women's team are riding a two-game winning streak
Cleveland State men's and women's soccer each netted victories over Detroit Mercy over the weekend. The men earned a 2-0 victory on Sept. 18, while the women followed up with a thrilling 2-1 win on Sept. 19 courtesy of a golden goal from Maddie Young. It was the first victory in program history for the women on Detroit's home field. 
WOMEN'S
CSU 2, DETROIT MERCY 1 (OT) 
Cleveland State has found itself on a two-game winning streak after the thrilling victory. 
Young's clinching goal came midway through the first overtime period off an assist from Ja'Maya Ward. The shot sent the CSU bench into a frenzy as they came away with the hard fought victory. 
"We are really proud of the group today," Cleveland State head coach Dallas Boyer said. "This is a difficult place to play and there are reasons we'd never won a game in Detroit in program history before today."
Searching for answers, the Vikings went back to the basics in hopes of turning their season around. 
"We essentially went back to the drawing board last week to change a lot of the way we want to play with some things we've learned about ourselves," Boyer said. "So it was asking a lot of the group to trust us enough to readjust on the fly like this mid season, but they certainly have so far." 
The women struck with a clutch goal from Maia Ransom on a double assist from Ward and Kathryn Ramicone to break the scoreless deadlock in the 89th minute. The Vikings (3-5-1) celebration was short lived as the Titans came roaring back 56 seconds later with a goal from Hailey Wentzloff on a penalty kick, sending the match into extra time.
The Vikings have faced adversity all season, and this was no different, but this time they were able to pull out the victory. 
"Credit to them for hanging in to find what we thought would be a late game-winner, but even more proud to see them bounce back to win it again with a great goal in OT," Boyer said.
Viking's freshman goalkeeper Kyla Valaitis tallied three saves on the night. The Titans (1-8-0, (0-2-0 HL) let it fly throughout the match, posting 20 shots to Cleveland State's five. The Vikings remained cool, calm and collected as they used their small opportunities to produce some big results.
The women will look to continue their win streak as they host defending Horizon League champion Northern Kentucky at Krenzler Field on Sept. 23 at 6 p.m.  
MEN'S 
CSU 2, Detroit Mercy 0 
Cleveland State earned its first shutout of the season as the Vikings (3-2-0) won their third straight game and improved to 2-0 in Horizon League play.
After a scoreless first half, Cleveland State broke through in the 58th minute when Albert Portas sent a laser into the upper right corner off an assist from junior Pablo Kawecki over 25 yards away. Kawecki followed up with a goal of his own in the 83rd minute off an assist up the middle from Michael Neumann. 
CSU goalkeeper Omeed Naeemy racked up eight saves. Although they came away with the win, Cleveland State was outshot 18-9, including an 8-6 shots-on-goal advantage for the Titans (1-2-2, 0-1-0).
The Vikings will head down I-71 to Columbus to battle the Buckeyes on Sept. 21 at 7 p.m. The Vikings lead the all-time series 16-12-1.