Image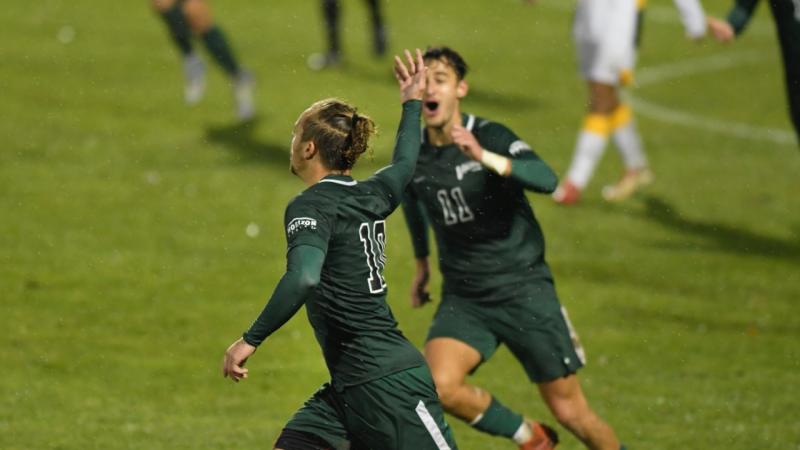 Credit: Cleveland State Athletic Department
CSU men's soccer takes down No. 3 Milwaukee, 2-1, in Horizon League semifinal
The Vikings notched two goals in seven minutes early in the second half to come from behind and grab the win. They will face top-seeded Oakland for the Horizon League championship.
Cleveland State men's soccer continued its memorable season as the second-seeded Vikings clinched a spot in the Horizon League Championship game for the first time since 2012 after nabbing a pair of goals to defeat the third-seeded Milwaukee Panthers, 2-1, in a Horizon League semifinal in Rochester, Michigan on Thursday. 
Cleveland State (10-7) advanced to the Horizon League Championship to face top-seeded Oakland (11-6-2) in Rochester on Saturday at 1 p.m. The Vikings lost to the Golden Grizzlies 4-3 in their only regular season encounter on Oct. 9.  
Trailing 1-0 at halftime, the Vikings swung the momentum in the 49th minute with a free-kick equalizer from Albert Portas. The Green and White tacked on another just seven minutes later, taking their first lead with a corner that developed into a shot to the back of the upper net from Andrew Nicholas.
See the incredible play here.
The Vikings stayed aggressive with the lead as they continued to threaten deep into the 70th minute mark. At the other end, CSU junior goalkeeper Omeed Naeemy tallied two saves as the midfield defense kept the Panthers at bay throughout most of the contest.    
Cleveland State trailed throughout a large chunk of the first half after allowing a goal from Milwaukee's Paolo Gratton in the 28th minute. The Vikings were outshot 14-11, but had the edge in shots-on-goal (6-3) and corners (6-5).