Image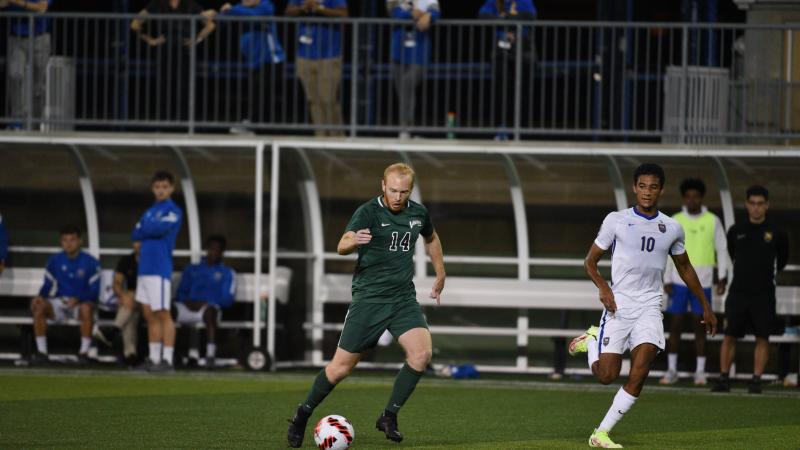 Credit: Cleveland State Athletic Department
CSU men's soccer falls to nationally ranked Pitt, 4-0
The No. 13 ranked Panthers stymied the Vikings offense throughout the night, while finding plenty of gaps in the defense.
Cleveland State men's soccer dropped its match to nationally ranked Pitt, 4-0, on the road Tuesday evening. The Panthers, who came into the contest as the No. 13 ranked program in the nation, grabbed an early goal and continued to pour it on in the second half to earn the easy victory. 
Pitt (7-3) pounced in the 23rd minute as Guilherme Feitosa nabbed an early goal off a give-and-go cross from Rodrigo Almeida and Bertin Jacquesson. While the Vikings (6-4) were able to hold off another score in the first half, they were outshot 11-3 in the first 45 minutes of play. 
Cleveland State's defense held firm for the 20 minutes of the second half against the powerhouse program before Jacquesson increased the advantage with a goal in the 68th minute off a pair of passes from Almeida and Jasper Loeffelsend. That put the Vikings in a 2-0 hole.
Pitt smelled blood as they came right back six minutes later with another score, this time from Michael Sullivan. Jacquesson was credited with his second assist on the night to help the Panthers up the lead to 3-0. 
Well on its way to victory, Pitt added an insurance goal in the 85th minute from Lucas Matuszewski. 
The Panthers, who knocked off No. 4 North Carolina earlier this season, remain undefeated at home (5-0) and have only allowed 10 goals in 10 games. 
The Vikings were outshot 20-6 on the night, including a 10-2 shots-on-goal advantage for the Panthers. Pitt tallied six corner kicks on the night while Cleveland State mustered just one. 
Junior goalkeeper Omeed Naeemy had six saves in the Green and White's toughest task of the season. Reigning Horizon League Player of the Week Bojan Kolevski had both shots for the Vikings.