Image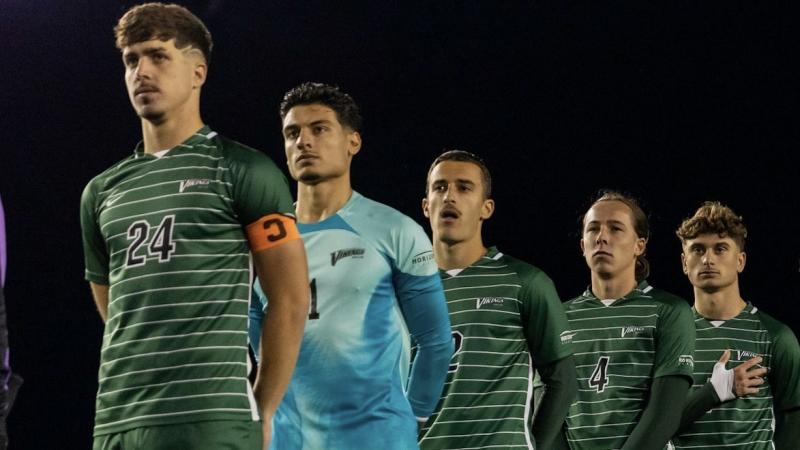 Credit: Cleveland State Athletics Department
CSU men's soccer draw against Wright State on Senior Night
Cleveland State men's soccer played a match against Wright State where CSU recognized nine senior players: Daniel Lacerda, Jaume Rubio, Frederic Heitzer, Julian Pellegrini, Daniel Tregansin, William Wagner, Niklas Nannt, Josh Davis and Kyle Folds.
Cleveland State men's soccer drew 1-1 against the Wright State Raiders on senior night, Oct. 28, at Krenzler Field.
The Vikings played a competitive match but struggled to find a winning goal against the visiting Raiders. Cleveland State had an opportunity with a free kick in the 88th minute of the match. However, Danilo Bakoc's attempt failed to find the net. 
Early in the match, the Panthers pressured the Vikings' defense, holding an 8-2 shot advantage in the first half. Two of their eight shots hit the crossbar, but none hit the back of the net.
After the break, the Raiders went ahead in the 58th minute, when Reece Allbaugh scored. However, less than a minute later, CSU's Marko Rimac tied the game at 1-1 off a through ball from Albert Portas.
 The Vikings had 10 shots, with five on goal, in the 2nd half, but were unable to break the tie. The Vikings goalkeeper, Omeed Naeemy, had a strong performance with four saves during the match. 
On Wednesday, the Vikings closed out a disappointing regular season with a 1-0 loss to Robert Morris, taking them to 3 wins, 9 losses and 5 draws overall, and out of the running for any post-season play.