Image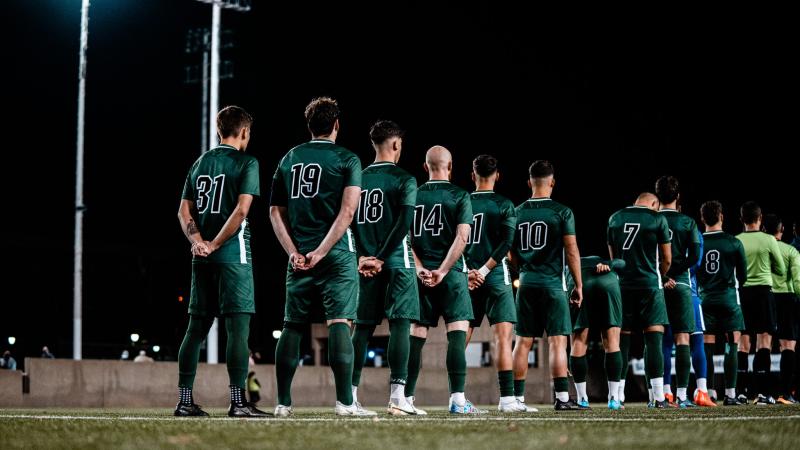 Credit: DeAndré Patrick
CSU men's soccer advances to Horizon League championship game
The Vikings beat Oakland 4-2 and will play IUPUI Saturday in their second consecutive Horizon League championship.
The Cleveland State University men's soccer team on Thursday defeated the Oakland Golden Grizzlies 4-2 and will face IUPUI in the Horizon League championship game on Saturday.
The Vikings struck first when senior Albert Portas scored off of an assist from fellow senior Pablo Kawecki in the sixth minute.
The Golden Grizzlies fired back later in the half when junior Gabriel Baylon scored in the 18th minute to make it 1-1. Oakland then capitalized on their momentum to take a 2-1 lead when freshman Charlie Retzer scored just befiore halftime.
The Vikings went into the break trailing 1-2 despite holding a 10-3 edge on shots on goal during the first 45 minutes.
With their backs against the wall and facing elimination, the Vikings came out fighting and reasserted their dominance in the match's second half.
Kawecki evened the match with a goal in the 57th minute, assisted by Vikings senior Jannis Schmidt.
Cleveland State junior Bojan Kolevski then put his team on top with a header in the 72nd minute of the game to give his team a 3-2 lead. He followed that up with a second goal in the 78th minute of the match to extend the Vikings' lead to 4-2. 
Cleveland State senior goalkeeper Omeed Naeemy finished the game with two saves as the Vikings held for the win. 
With the victory, the Vikings advanced to their second consecutive Horizon League championship game. They will face IUPUI, who beat Wright State 3-0 in Thursday's other matchup.
The championship game will be played at Krenzler Field on Saturday, Nov. 12 at 1:00 p.m.
Tickets are on sale here.