Image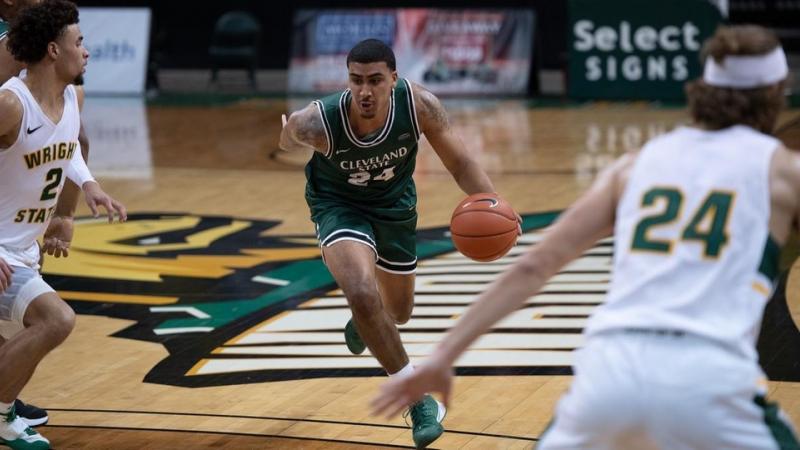 Credit: Cleveland State University Athletics Department
CSU men's basketball win back-to-back home games against Green Bay
The CSU Vikings continue to hold onto first place in the Horizon League after wins over the Green Bay Phoenix.
Cleveland State University's Vikings, the Horizon League's top team, took on the University of Wisconsin's Green Bay Phoenix over the weekend at the Wolstein Center, defeating the visitors 74-68 in their first meeting and 73-65 in the game to follow. 
At the beginning of the first game, Green Bay had momentum on their side. They kept CSU on the defensive and limited their ability to score points in the paint, in line with the visitors' pre-game plan. The Phoenix led the Vikings for the better part of the first-half.
Going into halftime however, CSU grabbed a one-point lead, 39-38, after 6-foot-4 junior Tre Gomillion put up a stellar three-point shot from his knees with one second left in the half.
Gomillion pumped his fist in the air as his teammates celebrated.
Having turned the tide, the Vikings started the second-half with a fresh pace, leading Green Bay throughout. Gomillion, flanked by senior Craig Beaudion and junior Deante Johnson helped CSU maintain their lead and were among the top scorers in the first game of the weekend. 
After the game, CSU's Head Coach Dennis Gates praised the attitude and performance of Beaudion, who shone with 16 points, 6 assists, and 3 steals on the night.
"Craig will tell you right now that he didn't play his best and that's the type of competitor he is," Gates said. "He's been playing good basketball and also delivering the basketball, getting his teammates organized as best as possible."
CSU switched roles with their adversaries in the second game, keeping a lead for the duration of the first half. The Vikings' Gomillion doubled down on another great performance as the home team's lead scorer, putting up 10 points in the first half.
CSU also changed tactics, less intent on scoring in the paint while playing some aggressive defense. The Vikings held the lead at the half, 41-23. Senior Algevon Eichelberger, Gomillion, and Beaudion were amongst the leading scorers in this game, helping the Vikings to victory with a final score of 73-65 over Green Bay.
The Vikings' next series will be against Oakland in Rochester Hills, Michigan on Feb. 5-6.