Image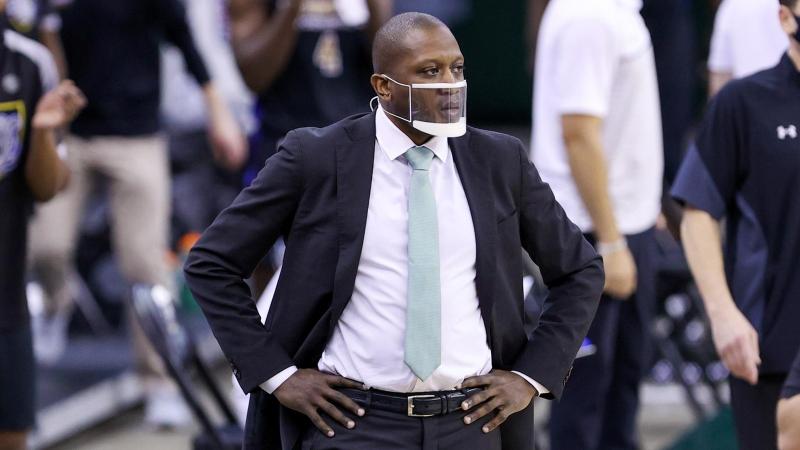 Credit: Cleveland State Athletic Department
CSU men's basketball shakes off sluggish start, defeats Edinboro for first win of season
Four Vikings reached double figures to help grab the victory.
Cleveland State men's basketball earned its first win of the season as it shook off a sluggish start to defeat Division II Edinboro University, 75-61, at the Wolstein Center on Tuesday night. 
Cleveland State had its hands full all evening with the scrappy Fighting Scots (1-2). Ugly shooting from CSU combined with a fired-up foe helped set the early tone with a 15-5 run from Edinboro with 10 minutes left in the first half.
That's when the Vikings (1-2) began to flip the script, attacking the basket more frequently and finding their open shots with a more relaxed offense. The Green and White reeled off a 23-7 run, capped off with a pair of back-to-back 3s off the bench from senior guard Yahel Hill as they took a 26-22 lead.
"Yahel Hill isn't the same player as he was last year," CSU head coach Dennis Gates said. "You guys can clearly see his confidence soaring through the roof and that is important … I'm thoroughly excited about his growth in the offseason. It's simple, he put in the work, but more importantly you can see the confidence exuding out of each and every pore in his body."
Hill finished with a team-high 13 points on a perfect 4-of-4 from the field and 3-of-4 from the free throw line. Senior Torrey Patton and newcomer Broc Finstuen each tallied 11 points.     
Settling into rhythm, Cleveland State pulled further away with a 13-5 run minutes later, becoming the aggressor, crashing the boards and dishing out crisp passes. The reserves flourished as Hill, senior Chris Greene and Finstuen helped the CSU bench outscore Edinboro's bench 26-5 heading into a 39-27 advantage at the break.
"Bench mob is very important to any game," Gates said. "I think the energy that they provide to be able to play the minutes that they play is very important."     
Edinboro's hot start was spearheaded by graduate senior forward Kierell Green. The 6-foot-8, 205-pounder had the Vikings number in the early going, posting 11 points and five rebounds. Green finished with a double-double, notching 19 points and 11 rebounds in the loss. 
Hill left the game in early stages of the second half after taking an elbow to the face. Blood was wiped from the court and he did not return after getting five stitches.  
The Scots cut the lead to nine with 12:27 left in the game before Vikings' senior guard D'Moi Hodge connected on a pair of 3s. A few minutes later, senior forward Deante Johnson put the exclamation point on the game with a rim-rocking dunk to make it 68-53 with six minutes left. 
Hodge matched Hill's team-high 13 points, including 3-of-5 from deep. Johnson finished with nine points, seven rebounds and three assists. The Vikings tallied 17 assists on the night. 
In addition to the shooting woes, CSU struggled again from the free throw line, but ended up finishing 12-of-20.
Free throw shooting could be a crucial component to CSU's season, and they continue to work hard to clean up the problems they've had at the charity stripe. 
"You've got to put pressure in practice, in terms of those situations," Gates said. "Continue to practice them and the same thing we have been doing. Practicing and shooting and encouraging more and more free throws. It comes down to our guys being able to be in that moment and knock them down."
Beginning the season with consecutive losses to BYU and Ohio University, the win was a relief to thwart another 0-3 start, but Gates was more excited to see how team three responded to adversity. 
"Those are shots that I know we are going to make, but what I am excited about is to see how they dealt with that situation and circumstance," Gates said. "They had resolve, they had perseverance and they didn't try to hit home runs, it was one play at a time. You didn't see a look of panic in their face, and that's a sign of a team growing."    
The Vikings will continue their homestand when they host Canisus College Saturday at 2 p.m.
INJURY UPDATE: Coach Gates said senior guard Craig Beaudion will be out for an undisclosed amount of time. Beaudion suffered an ankle injury in the last game against Ohio University. Deshon Parker started in place of the injured Beaudion.