Image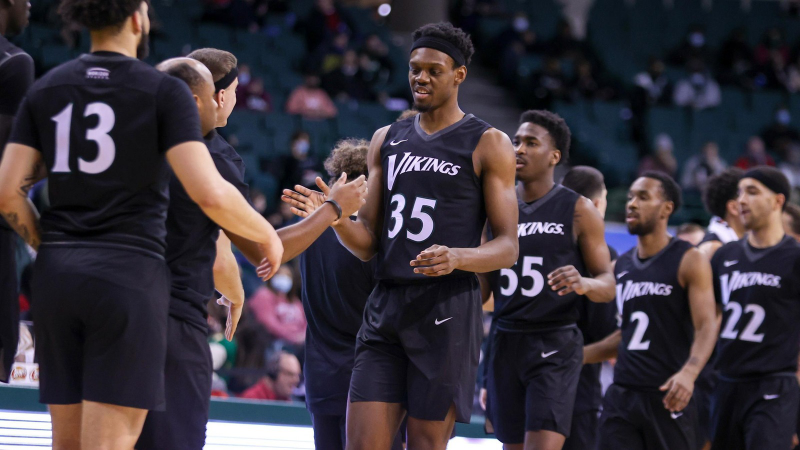 Credit: CSU Athletics Department
CSU men's basketball is in a race to win Horizon League
Another strong season from the Vikings has Cleveland State in the hunt for the best record in the Horizon League.
After their loss to Northern Kentucky, 72-78, on Sunday, the Cleveland State University men's basketball team is in second place of the Horizon League with nine games left to play. 
The loss snapped a four-game winning streak for CSU and served as just their second inner-conference loss. 
The Vikings are 14-5 overall and hold a 10-2 record against Horizon League opponents. Only Oakland University has a better record at 10-1 (16-5 overall). 
It has been another successful year for Cleveland State as they look to finish strong in their remaining games in a bid to secure the best record in the conference. 
CSU's keys to success 
Cleveland State is led in scoring by senior D'Moi Hodge, who is averaging 15.6 points per game on nearly 50 percent shooting from the field. 
Hodge acts as a reliable two-way presence for Cleveland and has made timely plays on both ends of the floor. He drilled a 3-pointer to force overtime against Youngstown State, finishing with 31 points in the Vikes' 64-61 victory Jan. 21. 
In another heroic effort, this time against Detroit Mercy Jan. 15, Hodge scored the go-ahead basket and then stole the inbounds pass to seal a two-point win for Cleveland State, 72-70. 
"Knowing that we all want to play defense and have fun out there, we know the offense is going to be there all the time, but defense is something we take pride in," Hodge told Cleveland.com.
Rebuilding a culture
The culture set in place by this team's leaders has helped make Cleveland State a force in the Horizon League.
Veteran leadership has been crucial to CSU's success. Eight seniors play consistent minutes each night.
Torrey Patton and Tre Gomillion have carried a heavy portion of the offensive load. Both rank in CSU's top three for points and assists. 
Gomillion, who won the Horizon League Defensive Player of the Year last season, prides himself on keeping the team alive with constant hustle plays. He recently sparked a comeback victory, 75-68, over Robert Morris University on Jan. 23. 
"For the last two years we've been in a bunch of situations like that and we practice being down with a certain amount of time," Gomillion told Cleveland.com. "It was nothing new to us. We were highly comfortable in that situation."
What's next for the Vikings?
Since taking charge as head coach three years ago, Dennis Gates has revamped an organization that had been previously struggling. 
"The trick is how I'm going to convince them that they can do the unthinkable and dream the undreamable," Gates told The Undefeated last season. 
Gates won the Horizon League Coach of the Year Award in 2021, leading the Vikings to the NCAA Tournament for the first time since 2009 and just the third time overall. 
Looking ahead, CSU has nine games remaining with a showdown on the last night of the season against Oakland University on Saturday, Feb. 26 at 3 p.m. that could determine the final standings.
Oakland handed Cleveland State their first inner-conference loss this season in a 70-65 thriller on Jan. 13. The two teams are currently in a race for the best record in the conference, with the Vikings just one game behind first place. 
Last season, CSU toppled Oakland 80-69 in the Horizon League championship game. It appears the Vikings might have to tackle the same challenge this year. 
"There are six of us out there that can defeat (Oakland) in a championship game. It's going to take one of us to do that," Gates said.
Next up for the Vikings is Green Bay at home at the Wolstein Center on Friday, Feb. 4. If you can't get to the game, listen in on the iHeartRadio App.