Image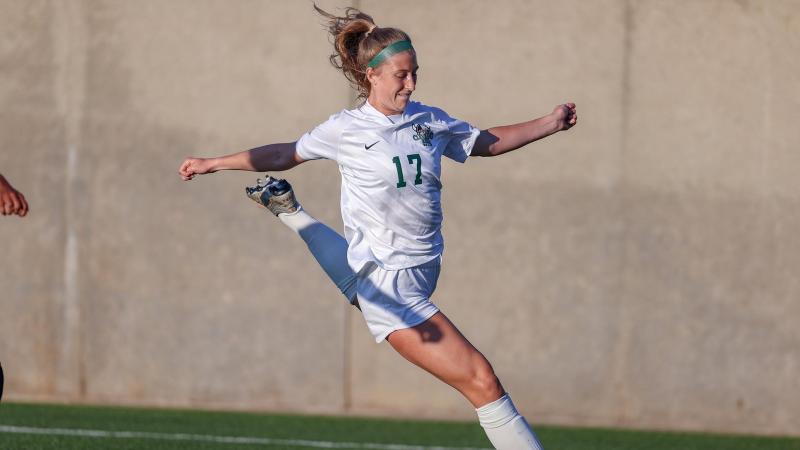 Credit: Cleveland State Athletic Department
Cleveland State women's soccer battles to a 2-2 draw at home against Miami (OH)
The Cleveland State women's soccer team turned in a gutsy effort as they tied with Miami (OH) in a matchup at Krenzler Field on Thursday evening.
Cleveland State (1-2-1) trailed by a goal twice in the contest, but each time they found a way to pull even.  
The Vikings fell down early as the Redhawks' Desiree Grubbs scored in the 27th minute of play. Cleveland State blended a beautiful possession to close out the first half as McKenna Donahue found Kathryn Ramicone for her third goal of the season. 
Kylie Beineckie once again put the Redhawks on top with a nifty shot to the back of the net in the 69th minute of play. Cleveland State wasted little time with their equalizer, a sizzling shot from Maddie Young off the assist from Donahue in the 70th minute.
Both teams had a pair of chances in the overtime periods, but came up short. CSU's Christina Trickett almost had the winning goal, but it sailed over the net as they would play to a draw. 
Miami (OH) (1-2-2) led in most categories as they out-shot Cleveland State 17-14. The MAC foe also edged out the Green and White in shots-on-goal with a 6-5 advantage and corner kicks with a 10-6 margin. Kyla Valaitis registered four saves for the home team. Trickett led the Vikings with four shots.
The Vikings will be back in action on Sunday for a 12 p.m. matchup against Niagara (2-1-0).