Image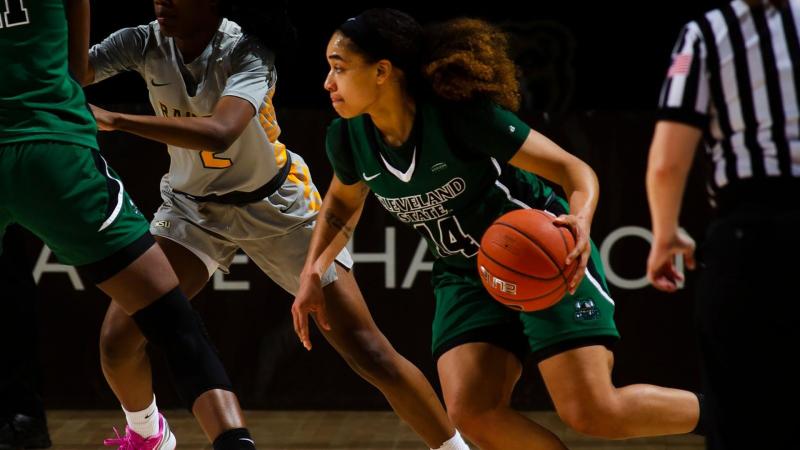 Credit: Cleveland State University Athletic Department
Cleveland State women fall to top-seeded Wright State in Horizon League semifinal
The Cleveland State women's basketball team fell to Wright State 73-62 in the Horizon League semifinal on March 8. But the scoreline did not tell the story of the match, with the Vikings holding their own for much of the game.
After a tough first half, the Vikings trailed by just 2 points midway with the score at 37-35. 
After the break, Cleveland State then evened the score on Taylah Levy's two free throws before Wright State again extended the advantage on their next possession.
The Vikings responded with a layup from Mariah White, making it 39-39 early into the third quarter.
The Raiders then went on an 8-2 run before a Destiny Leo jumper at the 6:19 mark stopped the WSU run and pulled the Vikings within four at 47-43.
The Vikings then fought to close that gap, tieing the score at 49-49 on an Isabelle Gradwell layup.
What might have been an upset ended there. 
Closing out the quarter, the Raiders showed why they were the top seed in the tournament, reeling off 10 points to CSU's 4 and going into the final quarter up 59-53.
Wright State maintained their momentum in the final quarter, pulling away to win 73-62.
Mariah White led Cleveland State in scoring with 24 points. Wright State out-shot the Vikings 43.9% to 35.2%. 
Despite the loss, the Vikings reached the Horizon League semifinal for the second consecutive year. They finished their season with an 11-9 record.