Image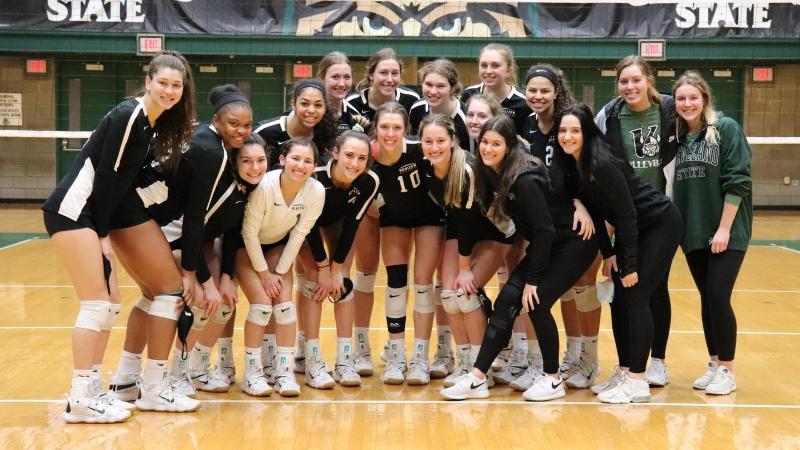 Credit: Cleveland State University Athletic Department
Cleveland State volleyball sweeps Youngstown State in regular season finale
Cleveland State volleyball closed out its regular season with a 3-0 sweep of Youngstown State Tuesday March 16 on Senior Night at the Wolstein Center. It was their seventh sweep of the year and third series sweep of the season after taking care of business on Monday.
The Vikings, who finished the regular season 9-7 overall, racked up set victories of 25-21, 25-7, 25-14. They were led by senior Hannah Greene's 12 kills, which was her 12th double-digit kill match on the season. The Vikings also received solid contributions from junior London Portis and sophomore Peyton Bloomer who had nine and eight kills, respectfully.
The Green and White were paced by freshmen Abby Miller's 32 assists and sophomore Audrey McConihe's 16 digs. Halle Schoen, Emily DeGeorge and Miller combined for 28 digs. It was a special moment for DeGeorge. The senior finished her career ranked fifth all-time at CSU with 1,307 digs. The Vikings out-dug their opponents on the night, 59-55. 
Chelsea Penfield bolstered a strong front line wall, posting four blocks as Cleveland State had seven stops on the night. The Vikings defense dominated parts of the match, ultimately holding the Penguins (3-9 overall) to a - 0.27 hitting percentage. The Vikings connected for .229 percent.
Cleveland State and Youngstown State traded points in the opening frame, until the Vikings pulled ahead, capitalizing on a pair of Penguin miscues. CSU later closed out the first set on a kill from Greene.
The Vikings blasted the Penguins in the second set, jumping out to an early double-digit lead and never looking back. 
Cleveland State pounced in the third set, taking advantage of more Penguin errors to establish an early 9-4 lead. The Vikings kept a steady pace, gaining a couple of kills from Miller as they stayed one step ahead in the set. CSU closed out the third set on a 6-0 run fueled by a pair of blocks from Penfield.