Image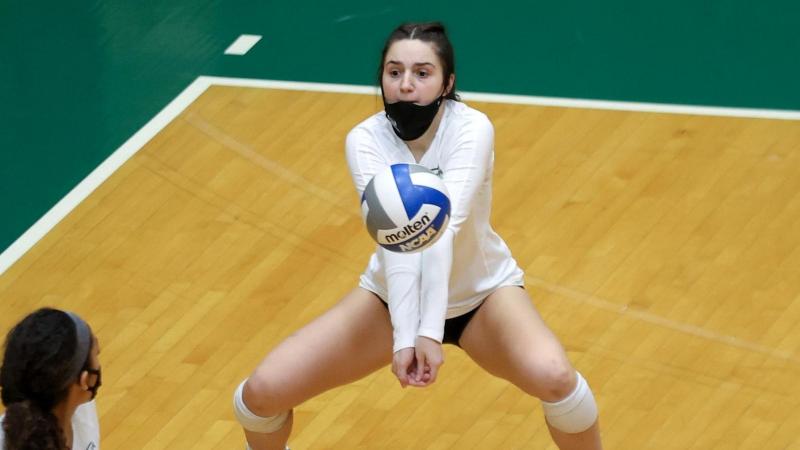 Credit: Cleveland State Athletic department
Cleveland State volleyball splits series with Purdue Fort Wayne
Cleveland State volleyball split its road series against the Purdue Fort Wayne Mastodons, claiming a 3-1 victory on Monday night followed by a 3-1 defeat to close out the series on Tuesday.
Cleveland State now holds a 5-5 overall record and are 5-5 in the Horizon League. Purdue Fort Wayne, which had won six in a row coming into the series, moves to 7-3. The Vikings have split three of their first five series this season.
Match 1 - Monday, Feb. 22
The Vikings took control of the first two sets, and hunkered down for a 25-14, 25-19, 23-25, 25-18 match victory. 
Cleveland State was led by the powerful quartet of Emily DeGeorge, Peyton Bloomer, Hannah Greene and London Portis. The group combined for 58 kills, including a team-high 19 kills from DeGeorge and a career-high 15 kills from Bloomer.
Cleveland State held a 0.324 hitting percentage, while also out-blocking (9-5) and out digging (66-56) the Mastodons.  
Caroline Kucia bolstered the defense with a season-high 15 digs while Abby Miller chipped in with 10. Greene was a pesky presence up front, tallying six blocks on the night. Miller supported nicely with 48 assists.
The Vikings took control of the first set with a 10-3 run, spurred on by a dominant attack up front. They continued the offensive attack, stringing together a 14-9 run, before putting the Mastodons away on a set-clinching kill from Bloomer.
It was more of the same in the second set, but the Mastodons showed some fight, led by a relentless effort from Katie Crowe. She finished with 15 kills on the night. Cleveland State stayed one step ahead, and once again delivered a set-clinching kill as DeGeorge hammered it into Mastodon territory. 
Cleveland State had a hiccup in the third set, falling to the Mastadon's 25-23. Purdue Fort Wayne showed its pride with a strong overall performance in the set, which was led by a pair of blocks from the Mastodons' Molly Mirrabelli. She finished with four blocks on the night.  
The Vikings rebounded nicely with a strong performance in set four, jumping out to a 9-4 lead and rallying for five consecutive points. Purdue Fort Wayne sliced into Cleveland State's lead, but DeGeorge and Greene provided a cushion with a pair of kills. A few timely kills from Bloomer helped the green and white pull away for the match victory.
 Match 2 - Tuesday, Feb. 23 
After claiming the fist set, Cleveland State pulled up short against the Mastodons dropping the next three sets and match, 25-20, 20-25, 18-25, 17-25.
Greene led the Vikings in the loss with a season-high 17 kills while Portis tallied 10. 
Four Vikings notched double-digit digs, including a season-high 17 from Kucia and 11 from Lindsey Tout. DeGeorge and Audrey McConihe each added 10 digs. 
Miller and Greene each posted five blocks on the night. 
The long night meant playing time for some young Vikings as freshman Ainslie McLaughlin and sophomore Sarah Green each took the court. Green tallied two kills, the first of her career. McLaughlin immediately made her presence felt with three blocks and a kill, also marking the first of her career.
The Mastodons were led by another strong performance from Crowe, who tallied 18 kills and 19 digs. Sydney Boerst dominated the Vikings front line, notching eight blocks as the visitors struggled to penetrate Purdue Fort Wayne's wall throughout the night. 
The Vikings were out-blocked (9-11) and out-digged (70-77) by the third place Mastodons. 
Cleveland State remains in fifth place in the Horizon League standings and return home to the Wolstein Center on Mar. 1-2 to face last-place Robert Morris (0-8) in a two-match series.