Image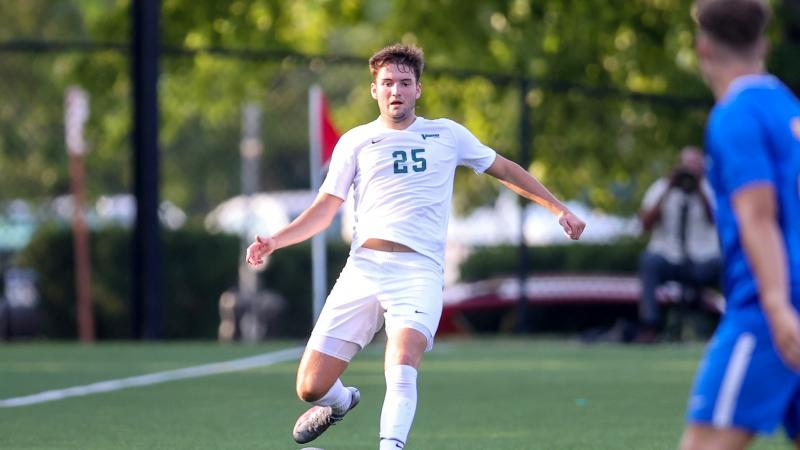 Credit: Cleveland State Athletic Department
Cleveland State men's soccer falls to Ohio State, 2-0
The loss breaks a three-game winning streak for the Vikings.
Cleveland State men's soccer broke its three-game winning streak on Sept. 21 as it fell to host Ohio State, 2-0, in a nonconference matchup.
The Vikings (3-3-0) were riding high heading into Columbus, and that confidence continued into the first half as CSU held firm with the Big Ten powerhouse. The Buckeyes and the Vikings each tallied three shots in the first 45 minutes of play.
Cleveland State held firm into the second half, but began to wear thin as the Buckeyes exploited a seam in the Vikings defense. That persistence paid off as Ohio State (3-3-1) came away with their first goal in the 68th minute of play after Laurence Wootton capitalized on a cross from Channing Chasten. The Buckeyes cushioned their lead in the 82nd minute after a miscue from CSU led to a goal from Devyn Etling.
Cleveland State tallied seven shots, including three from sophomore Bojan Kolevski. Ohio State notched 13 shots, including seven shots-on-goal. The Vikings mustered just one shot on goal, which came from Kolevski. The Buckeyes had a multitude of chances to increase the lead, tallying seven corner kicks while the Green and White had just one.
Cleveland State junior goalkeeper Omeed Naeemy nabbed three saves in the loss. Naeemy was named Horizon League Defensive Player of the Week on Sept. 20. It is his third time receiving the honor and first time this season. Kolevski was named Horizon League Offensive Player of the Week back on Sept. 13.         
The Vikings remain undefeated in Horizon League play (2-0-0) and will return to action on the road, taking on defending Horizon League Tournament champion, Milwaukee. Cleveland State won the previous two meetings with 1-0 shutouts.  
Check out Cleveland State men's soccer full schedule here.