Image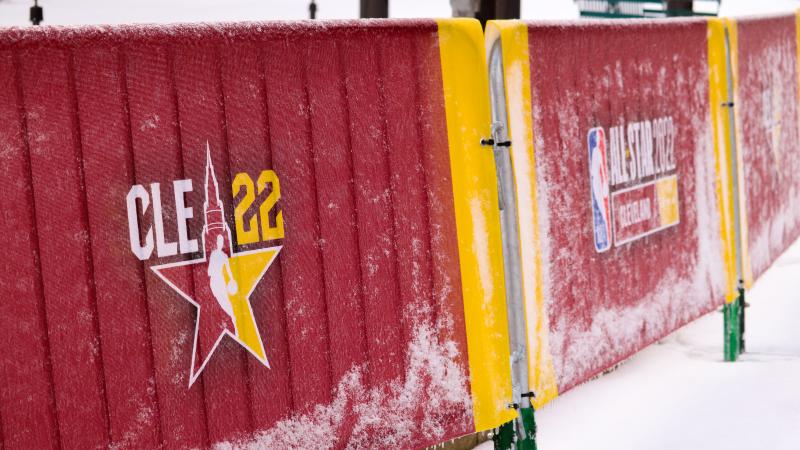 Credit: Matt Thomas
Cleveland shone bright during All-Star weekend
Cleveland was in the spotlight as it hosted NBA All-Star weekend for the first time since 1997.
NBA All-Star weekend began in Cleveland Friday, Feb. 18, for a three-day opportunity for the city to showcase everything it has to offer. 
Each night was highlighted by an event held at Rocket Mortgage Fieldhouse. 
Friday was the Rising Stars Game, featuring the brightest young prospects in the league. 
Saturday, Feb. 19, presented multiple competitions including the skills challenge, 3-point shoot-out and dunk contest. 
The main event of the weekend was the 2022 NBA All-Star Game, Sunday, Feb. 20, featuring Team Kevin Durant and Team LeBron James. 
A ceremony for the 75 greatest players of all time was held at halftime of the exhibition. Legends such as Michael Jordan, Magic Johnson and Northeast Ohio's very own LeBron James were honored during the celebration. 
Elsewhere, famous rappers Lil Baby, Gunna, Jack Harlow and others performed at various locations in the city. 
Four members of the Cleveland Cavaliers earned a place on-court during the weekend, with Evan Mobley and Isaac Okoro competing in the Rising Stars game, while Jarrett Allen and Darius Garland were selected to play in the All-Star game.
Local fans saw the weekend as a chance for the city to shine.
"Having the All-Star game in Cleveland meant a lot to me because it gave the hard working people of Ohio a chance to show the world of basketball our skills and culture," said Harrison Saler, a Cleveland native.
The All-Star game itself raised $450,000 for the Kent State "I Promise" Scholars Program while another $300,000 went to the Greater Cleveland Foodbank. The city raked in over $100 million in revenue during the weekend, according to Cleveland.com.
Hosting All-Star Weekend was the latest in a series of high-profile sports-related events in the city. Cleveland hosted the 2019 MLB All-Star Game and 2021 NFL Draft. And it has been selected to hold the 2024 NCAA Women's basketball Final Four as well as games in the 1st and 2nd rounds of the 2025 Men's Basketball March Madness tournament. (Cleveland.com)
"It's nice (for Cleveland) to be on the map and not looked at as a stain. Ohio is a great state with great people, it was nice to see that respected on one of sports biggest stages," Saler said.