Image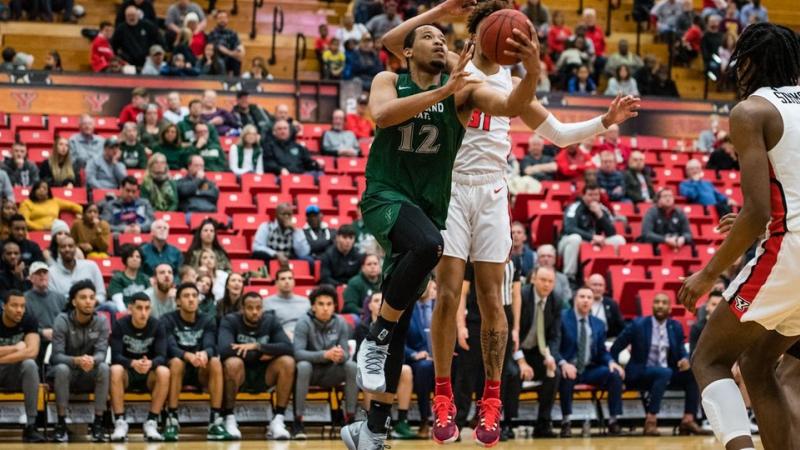 Credit: Viking Athletics
Algevon Eichelberger is ready to prove the preseason poll right
The CSU senior was selected to the Horizon League All-League Second Team in the preseason for men's basketball.
The Horizon League has released the preseason rankings for the upcoming season along with the preseason All-League teams. Cleveland State senior Algevon Eichelberger was selected to the Horizon League Preseason All-League Second Team. 
"At first I was shocked to see that I got selected for it," Eichelberger said. "To receive preseasons honors is a blessing. It was something that I was happy to get." 
Eichelberger hopes to live up to and exceed the expectations of him this season as he was also selected as a team captain this season for the Vikings. 
The senior from Saginaw, Michigan is coming off his best collegiate season making 29 starts last season while leading the team with 14.5 points and 6.4 rebounds a game. During the 2019-2020 season Eichelberger had four double-doubles and had 10 or more points in 25 of his 29 starts. His performance clearly caught the league's attention.
"I haven't procured many awards in my college career," Eichelberger said. "Thank the Lord for getting me this far. But It just goes to show the body of work that I put in over the previous season."
Eichelberger said that being voted to the Preseason All-League Second Team gave him an extra boost of confidence going into the season. He said that having his opponents and people around the league vote for him is a great feeling but he is also aware that he cannot be complacent. 
Head Coach Dennis Gates said he was proud to have a player of Eichelberger's talent on his team.
"Without a doubt it says something about the program," Gates said. "To have a guy of his caliber on your team is a special asset." 
Coach Gates spoke about the hardwork and dedication it has taken Eichelberger to achieve this status as it was their first year together. Gates will also be looking to his senior captain to provide guidance to new players who had an unconventional first offseason.
Eichelberger and the Vikings are set to begin their 2020-2021 season on Tuesday, Dec. 1 at Toledo.