Image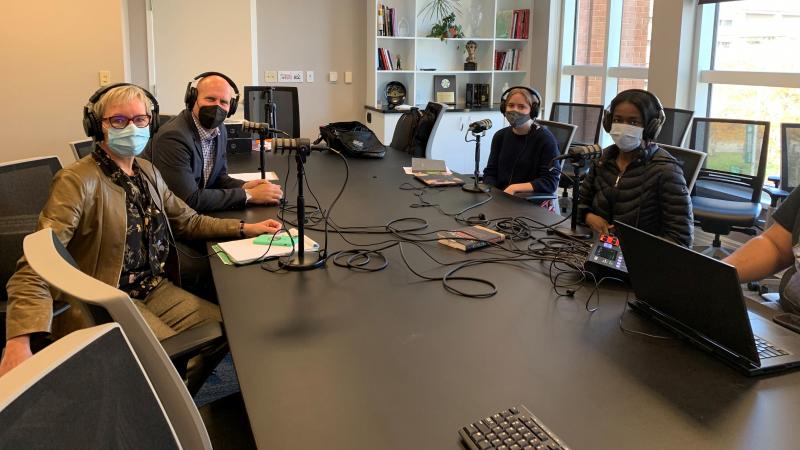 Credit: Mary Szabados
President Sands and Provost Laura Bloomberg discuss the state of CSU
The president and provost spoke about CSU 2.0, House Bill 327, the 2021-2022 budget, COVID-19 and Sunday's commencement ceremonies.
CSU's President Harlan Sands and Provost Laura Bloomberg sat down with The Stater's Editor-in-Chief Courtney Byrnes and News Editor Andrea Strong, Nov. 30, and discussed CSU 2.0, House Bill 327, the budget for 2021-2022, COVID-19 and commencement. 
CSU 2.0  
Click above to listen to the full discussion on CSU 2.0. 
The first topic was CSU 2.0, what it is and how it will change the current CSU.
"CSU 2.0 is something that we've been working on for the better part of the past two years and the exciting part about the whole process is it's been so engaging, from the students, staff, faculty, to our community," President Sands said. "The components of it are things we have built over the last couple years that involve where we're going to be in terms of size, what we're going to do to support our region in Northeast Ohio and help it grow, what we're going to do to transform our academic enterprise, so we focus on our strengths, our colleges, and our schools and help invest in them."
One major focus that is currently being developed is the realignment of the colleges and the naming and search of leadership of these entities. Bloomberg, who recently became the provost and senior vice president for academic affairs, has been actively involved in the development of the plan and added her comments on CSU 2.0 and the college realignment initiatives. 
"As you know I am quite new to Cleveland State and to Cleveland, and I can tell you honestly that one of the things that drew me to this opportunity was the aspirational vision of CSU 2.0," Bloomberg said. "For me CSU 2.0 and in particular my focus on the college realignment initiatives is the opportunity to think carefully about what is society demanding of us today and how do we adapt to meet that challenge."
The provost continued by describing how the new colleges will bring together similar areas of study, like arts and humanities or health and wellness, to better reflect the community outside the university.
House Bill 327
Click above to listen to the full discussion on House Bill 327.
The second topic covered was House Bill 327, which, if passed, would prohibit divisive concepts from being taught in public institutions. President Sands, who recently made a strong statement to the Faculty Senate regarding the bill, voiced his thoughts on the bill.
"What we do at universities is unique, there is no other place where we can get together with young folks and our very talented faculty and talk about difficult issues — issues that require interpretation, issues where folks can come together and talk about things from different points of view," Sands said. "This is the core of the academic experience and the intellectual challenge that we are uniquely suited to host at universities between faculty and students."
Bloomberg added her thoughts on House Bill 327 from the perspective of freedom of speech. 
"Forever in this country we have had an amendment that has protected our free speech and when speech is contested we have found as a country that the most successful approach is to counter speech with more speech, not less speech," Bloomberg said. 
"There have been times in the history of humankind where we have debated theories, that's very different than saying we will not talk about a theory," she continues. "To me that's sort of exhibit A of what is to counter speech with more speech."
2021-2022 Budget
Click above to listen to the full discussion on the 2021-2022 Budget.
The third topic covered was the budget for 2021-2022 and whether faculty and staff can expect a pay raise, especially with inflation rising in Ohio. 
"As we stabilize and invest in ourselves, it's our goal as we bring in more revenues, as we get folks to invest in us that we share with our faculty and staff — and by the same token keep the cost to our students down," Sands said, "it's our intent to go ahead when we have that level of stability, financial stability, that we're all comfortable with to go ahead and reward our staff."
"When that will happen, how that will happen is something that we're working on and continue to discuss."
COVID-19
Click above to listen to the full discussion on COVID-19.
The fourth topic covered was COVID-19. Cleveland State University was one of the first institutions in the state to require any type of vaccine as it was mandated for students in the resident halls only. Sands and Bloomberg spoke about the possibility of further mandates, masking mandates, spread prevention and the plan to keep campus open in spring 2022. 
"I think we need to be careful on what a mandate means — it sounds like it should mean most people, if not all people, are required to take a vaccine, but if you look at those policies most universities have three exceptions to it," Sands said. 
The three exemptions are for medical reasons, religious reasons and conscientious objection. As Sands notes, this essentially means anyone who wants to opt out can.
"If those three things are under the rubric of a mandate then I don't think there's an 11th grade English professor that would ever allow you to describe that as a mandate," the president continued. 
Bloomberg joined in to talk about CSU's compliance with the mask mandate.
"The compliance with the mask mandate has been really impressive to me, now whenever I say that somebody will go, 'Well you know what, I saw somebody in the elevator who wasn't masked up or had it below their nose,'" Bloomberg said. "I think that there is that sort of hypersensitivity to where it's not working, but when you look across campus a vast majority of people are complying with the mask mandate and that's really impressive and it's essential."
She also added that she assumes masking mandates will stay in place for the spring semester.
Commencement
Click above to listen to the full discussion on Commencement.
The final topic covered was commencement. This is the first in-person commencement that CSU will have at the Wolstein Center since 2019 due to the COVID-19 pandemic —  and an afternoon ceremony will give a chance for 2020 graduates to walk. Sands expressed his excitement for the return of commencement at the Wolstein Center while voicing concerns. 
"I'm excited about any commencement — do we have to be careful that we do it in a way that we can make sure that we can put that many people in place — we're going to have to be serious about the masking," Sands said. "I'm a little concerned about the guests because there are so many events now that I've seen on TV and otherwise, that folks are a little more laxed." 
Bloomberg also expressed her excitement.
"I am really excited about it, this will be my first commencement at Cleveland State, but I can tell you for years commencement day has been my favorite day of the year," Bloomberg said. "It's such an exciting time and I love every part of it." 

* After this roundtable, President Sands announced Dec. 1 that Frank G. Jackson, Cleveland's longest-serving mayor and a CSU alumnus, and David Reynolds, chair of the CSU Board of Trustees would speak to graduates at the university's commencement ceremonies Dec. 12.