Image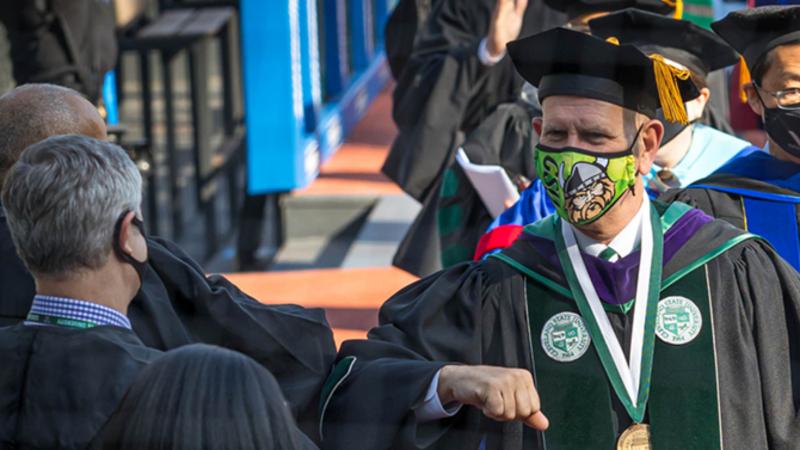 Credit: Cleveland State University
2020 graduates get an opportunity to walk
2020 graduates had a virtual graduation last year, but now can walk proudly in a December commencement.
Graduates across the country last year had to celebrate in their homes due to COVID-19 removing the chance of an in-person ceremony. Many graduates were crushed to know they would miss the long-awaited moment of recognition that they had earned their degree. 
Cleveland State University is attempting to remedy that this fall. It has announced it will hold a commencement ceremony for 2020 graduates on Dec. 12, 2021. While this is exciting news, it is hard because many graduates have moved on with their lives and may not be able to join the celebration. 
Graduates have until Oct. 31st to RSVP for the ceremony, but many still do not know if they will be able to attend this soon considering they have other life obligations. 
Students are happy about the offer, but they also wish it was sooner or had been at the spring 2021 commencement.  
"I am glad that 2020 grads will finally get a chance to walk although it feels strange as an alum," said Hayley Semrau, a 2020 graduate. 
"It feels weird already walking in 2021, I think they should have held the graduation for 2020 sooner," said Armonie Pope, another 2020 graduate. "I definitely believe they should have let 2020 graduates walk this past May instead of December. I feel it's backwards".
Many of them are making changes to their schedules to be in attendance and celebrate their accomplishments in-person. After graduation, graduates started new lives and careers in many different states.
"I have not decided yet if I will be attending. Life is very different for me now than it was when I graduated," said Semrau. "Graduations are great to celebrate your hard work during the semester and since this was so long ago it feels weird celebrating now."
"Yes I will be in attendance," said Pope. 
2020 graduates have until the end of October to decide if they will attend December's event. If you are a 2020 graduate and want to know more, you will find the form to RSVP here.