Image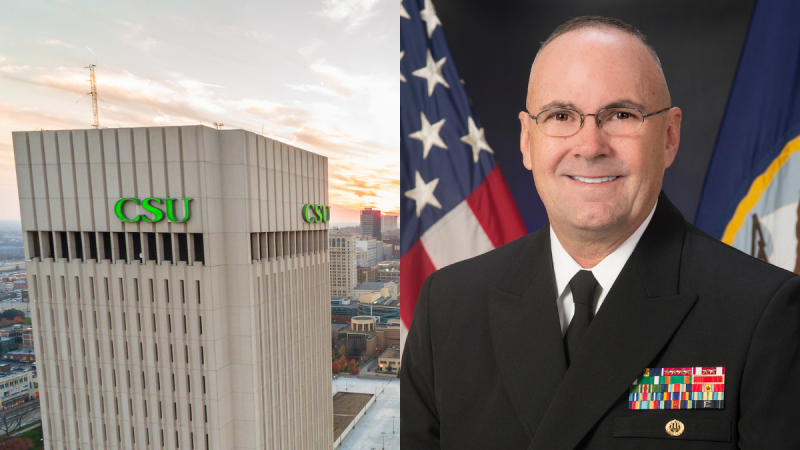 Credit: Cleveland State University (left); United States Navy (right)
Dr. Faison reflects on his 18 months at Cleveland State University
Dr. Forrest Faison, who will be leaving the university in October, shared some of the highlights of his time at Cleveland State amid the COVID-19 pandemic. "The thing I've enjoyed the most is being a part of the CSU family," Faison said.
After 18 months at Cleveland State University, Dr. Forrest Faison will leave his position as Vice President of Research, Innovation and Healthcare Strategy in October. He sat down with the Cleveland Stater to talk about his time here, including his role on the Pandemic Response team.
Dr. Faison grew up in Rocky River, Ohio, a small suburb about 12 miles west of CSU. After graduating high school, he attended Wake Forest University where he decided to attend medical school. He applied to the Military Medical School and joined the Navy where he ultimately became the surgeon general of the Navy during a 39-year career.
In 2018, Faison visited his hometown of Greater Cleveland during "Navy Week" when CSU recruited him to join the university's administrative team.
Faison arrived at CSU in March 2020 alongside the COVID-19 pandemic. Immediately upon arrival, Faison was met with the challenge of fighting a pandemic while the adminstration was fighting to keep the university operating. Faison was not fazed.
"This is actually my sixth pandemic," Faison said. "I've dealt with pandemic response before."
Because of his experience in the Navy, Faison was put in charge of the Pandemic Response team at CSU. 
"I got to meet a lot of people pretty quickly," Faison chuckled. 
As the nation faced uncertainties, the Pandemic Response team faced COVID head on with safety as the top priority.
"How do we take care of people, how do we protect them and at the same time, how do we make sure that we can continue the mission of the university?" Faison said of the team decision-making process.
Along with the Pandemic Response team at CSU, the public universities in Ohio coordinated their efforts so that students across the state would have the same safe experience at each school. Faison served as the leader of this group.
Fast forward to fall 2021 and students and faculty have returned to campus. Now, the Pandemic Response team has shifted its focus to how it can keep its students and faculty safe while remaining on campus.
Faison noted that in the last year and a half, CSU has continued to have the lowest infection rate of all the universities in Ohio. Furthermore, the infection rate is less than half of that of the community. Faison attributes this low rate to the work of the school and its students.
Still, while the infection rates remain low, the Pandemic Response team is now responsible for making a decision on a potential vaccine mandate. 
When asked where the university may be headed in terms of its own vaccine mandate, Faison did not disclose any potential decisions, but shared his concern for those hesitant towards medicine and not this specific vaccine.
"There's a great deal of fear and hesitancy about vaccines," Faison said. "It has to do with long-standing hesitancy and distrust about organized medicine. You're not going to fix that overnight. So we took a different approach." 
Faison pointed out that in schools where mandates have been put in place, those who do not want to get vaccinated are applying for and receiving exemptions.
"What's going to make the campus safe is people getting vaccinated, not people getting exempted," Faison said. 
Rather than a mandate, Cleveland State opted for a "Peer-to-Peer Vaccination Education Campaign," led by Faison, that educates and incentivizes students to get vaccinated.
Credit: Cleveland State University on Facebook
Caption: Dr. Faison speaks at a Veteran's Day event at Cleveland State on Nov. 10, 2020.
While Faison did not share any decisions, he did say that the Pandemic Response team is continuing to monitor the situation and that, if infection rates rise, they would reassess their decision. The administration is at odds with the CSU Senate on the issue, the Senate having endorsed a mandate at its Sep. 8 meeting.
Despite the impact of COVID on Faison's brief tenure at CSU, he still served the university in other respects as the Vice President for Research, Innovation and Healthcare Strategy.
As the Vice President for Research and Innovation, Faison led an office that supports faculty members with applying for and managing grants for research. The office also hosts an Undergraduate Research Competition where students are paired with faculty to do summer research.
Faison commented on the importance of research at CSU, an urban research university.
"Research is an important part of what goes on at Cleveland State," Faison said. "It also provides an opportunity for our students to get experience and exposure to research and how that's done."
Alongside research, Faison also led CSU's work in innovation through partnerships. During his time here, CSU re-established their partnership with the Ohio Federal Research Network which pairs CSU and institutions with federal entities like the Department of Defense.
In terms of healthcare strategy, Faison discussed how healthcare is a big part of Cleveland. Because of this, Faison focused on the importance of great healthcare education for those going into health careers as well as those currently in their career looking to increase their skills.
"How might we do healthcare education to not only prepare our students for rewarding careers in healthcare, but also provide an opportunity for the existing healthcare force to upscale and go back to college and get some additional skills," Faison asked. How to help "those folks who lost their jobs in the pandemic to reskill in a healthcare profession." 
As Faison's time at CSU comes to an end, he shared what he enjoyed most of his short yet fruitful career as VP of Research, Innovation and Healthcare Strategy.
"The thing I've enjoyed the most is being a part of the CSU family," Faison said. "The faculty, staff and students here are just absolutely amazing."
After his 39-year career in the Navy, Faison was thrilled to return to his hometown and to see what CSU has become since his childhood.
"This is my hometown and I remember Cleveland State back in the mid-70s, and to see the Cleveland State of today is just awe-inspiring," Faison said.
Despite the hardships that COVID brought, Faison still reflected on his role on the Pandemic Response team.
"I think the opportunity to help and work with the team that — knock on wood — has gotten us successfully through well over a year and a half of COVID response without any outbreaks, with such a low infection rate, and no deaths has really been a memory for me," Faison said.
Faison also shared how he will miss the students, his friends and the opportunity to interact with them on a daily basis.
"It's been a wonderful experience here," Faison concluded.
Dr. Forrest Faison's last day on campus as part of the CSU administration was Oct. 15.