Image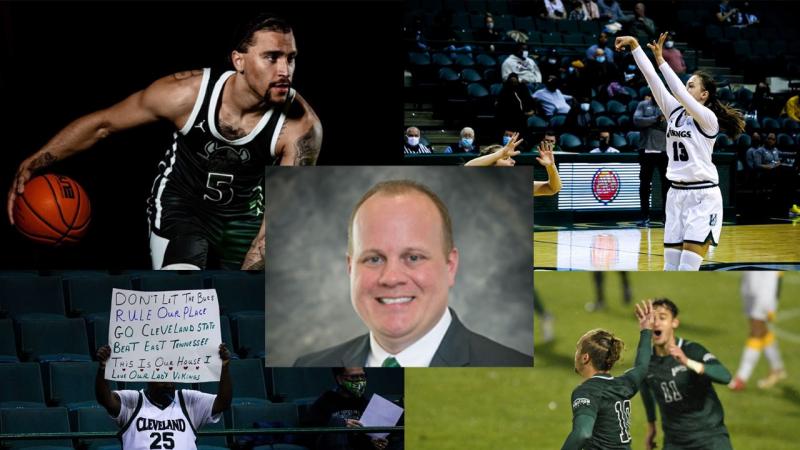 Credit: John Jirik
Athletics Director Scott Garrett talks sports at CSU
The program Garrett oversees at Cleveland State is enjoying the slow return to normalcy as athletics wraps up the fall semester.
Whether it was volleyball action at the Woodling Gymnasium, soccer at Krenzler Field or the opening roar of the Wolstein Center's men's and women's basketball season, there was much to be excited about involving the Cleveland State Vikings this fall semester. 
That excitement looks to be only the beginning as Cleveland State continues to welcome back fans for their athletic events and bolster their athletic programs in the process. 
The man behind it all is Director of Athletics Scott Garrett who is in his third year at the helm of CSU's sporting program and its $13 million dollar operating budget.
Garrett has enjoyed the close-knit community that comes with running a small school athletics program. 
"Certainly the family environment and the willingness of the community, whether that's our coaches helping each other, or our staff really pitching in, wearing a lot of hats and helping each other," Garrett said. "We've got 60 to 65 athletics staff and coaches, and that's such a smaller footprint than you might see at power five programs that might have three … or 400 employees that you might not see your coworkers, or have an opportunity for faculty and staff to get to know your student athletes." 
GETTING BACK TO NORMAL 
Coming off a 2020 filled with missed interaction and cardboard cutouts, Cleveland State athletics welcomed back fans for the 2021 season, a sigh of relief for all involved. The Vikings first indoor event was volleyball's CSU Invitational back in September, which drew an attendance of just over 400. 
"It was so hard on our student athletes last year to compete with no opportunity for their friends and family to see them," Garrett said. "It's certainly encouraging to be at that point as we started off the fall with volleyball and soccer."
Credit: Matt Thomas 
Men's basketball's attendance has skyrocketed since the team's berth in the NCAA tournament last season. Over 3,000 were in attendance as Cleveland State opened its home schedule against Ohio on Nov. 13. 
To put that in perspective, before Garrett's arrival, CSU men's basketball averaged around 900 in attendance in 2018. In 2019, coach Dennis Gates' first year at the helm, The Vikings cleared the 1,500 mark.   
"Especially for men's basketball, it has implications that are broader for people to just be there and watch the game," Garrett said. "They've got a revenue impact for our ability to sell tickets and engage with our alumni and fans. It's just us getting back to doing what we need to continue to do, which is build relationships with the campus community."
Cleveland State partnered with WARF1350 iHeartRadio beginning fall of 2021 to broadcast men's basketball. Garrett hopes the Vikings can realistically push somewhere between 2,000 and 2,500 average attendance by the end of this season. 
"But the sky's the limit for us," he said. "We continue to have success and we continue to do some of these innovative strategies and continue to engage the campus community, then that continues to evolve into students that are looking for things to do, and our faculty and staff looking for ways to celebrate their institution."     
Coming off their WBI championship, women's basketball has also seen a sharp uptick in sales as they reeled off seven straight home victories to start the season and eight straight overall. Head coach Chris Kielsmeier has ended most of his interviews encouraging fans to come and check out what Cleveland State women's basketball is all about.
"Certainly the WBI championship was something to celebrate at the end of last year, and rattling off three wins at the end of a very tough year on our student athletes was something to be proud of," Garrett said. He's hoping to build on that momentum.
"We have had a lot of conversations about how do we get into the upper echelon of the Horizon League and really compete with IUPUI or Green Bay or Milwaukee to be one of the pre-eminent women's basketball programs in the conference," Garrett said, "and I've got confidence we are headed in that direction."  
The women have made a name for themselves, as women's programs across the country continue to fight for gender equality in collegiate and pro sports. 
"Certainly (we are) supportive of all the national momentum about being introspective about gender equality … We need to make sure we have a critical lens on how we are operating and certainly you don't want intentional gaps from an equity standpoint, but also to make sure there aren't unintentional gaps, which is what some of the things that have been found in some of the NCAA's self reporting and self investigating," Garrett said. 
Credit: Matt Thomas 
Garrett has seen an increased interest in CSU athletics since the pandemic kept fans away. 
"There is just a general uptick in attendance at all of our sporting events, which is fantastic, right," Garrett said. "CSU continues to evolve as an urban learning institution and has more and more students on campus. We welcomed a number of international students to campus for the first time through the CSU Global partnership."
Flush with international student athletes, men's soccer churned out a 10-8 campaign and an 8-2 league record. Attendance was also up at Krenzler Field as the Vikings came within one game of the Horizon League title in the postseason.
Credit: Cleveland State athletics 
With CSU athletics thriving in 2021, how did the pandemic affect the program's revenue? 
"It depends on how you account for these things, but I would say in general we actually came out (of 2020) ahead of where we expected to be because the competition was so reduced," Garrett said. 
"We had already gone into the year expecting that we would be implementing a budget cut versus 2019, and so we had relayed that to our team, and they actually spent less than we prescribed," the athletics director added. "It more than offset what the lost revenues were."
MARKETING 
Men's basketball was among the first in the university to jump out and take advantage of the newly installed Name, Image and Likeness agreement, which allows NCAA athletes to benefit from their talent. Guards Tre Gomillion (senior) and sophomore Meechie Terry each have their own website and brand.
But can CSU promote their athletes even more? Garrett has been focused on doing just that since he took over. 
"I think over the past couple years, certainly it's been a goal of mine and the administrative team that we put together. To just grow and evolve in that area, and not to any specific team, but just to the whole department," Garrett said. 
Credit: DeAndre Patrick - Cleveland State Athletics 
Whether it's in person, online or on air, Cleveland State thrives on sharing its athletes' accomplishments. If one student athlete succeeds, the whole team succeeds. But Garrett also wants to tell the story within the story.  
"We have been really intentional about doing those things the past couple years … more beyond the wins and losses, the results of games or the individual statistics. But trying to give a peak behind the curtain and do more storytelling and behind the scenes content," Garrett said. 
"When we have accomplishments that aren't necessarily related to athletic performance but they are done by our student athletes for academics or student service, sharing those things with the university, fellow CSU students and the faculty on campus, and then broadening that to Northeast Ohio."
WHAT'S NEXT?  
Could Cleveland State add a team, or possibly take one away in the coming years? 
Garrett doesn't see any drastic changes anywhere in the immediate future but says he and the team are always looking to explore new opportunities and evolve their athletics program. 
One of those new opportunities is the adaptation to E-Sports and what that might look like in the future.
"I have been on the record, and the university has been very supportive, of implementing varsity esports," Garrett said, adding that while competitive video games aren't necessarily an NCAA sponsored activity, "we will be involved in what it looks like at CSU moving forward." 
As the athletic season heads into winter, the excitement is at a fever pitch for Cleveland State men's and women's basketball programs, with lacrosse, fencing, track and field, swimming and diving, wrestling and softball right around the corner.