Image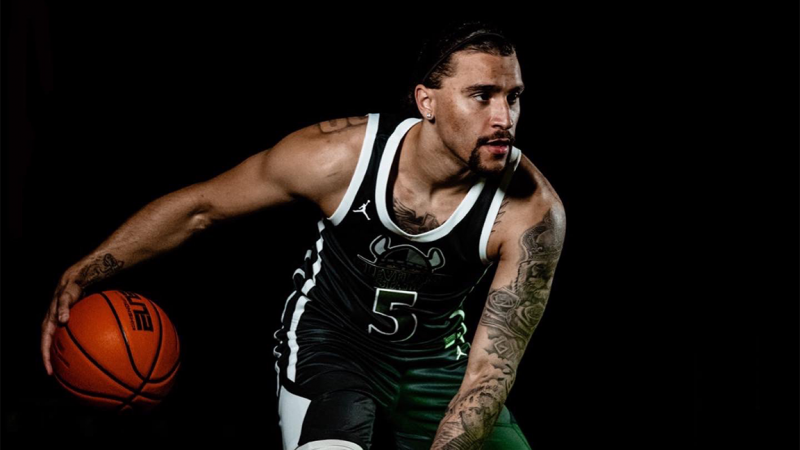 Credit: DeAndre Patrick | Cleveland State Athletic Department
CSU basketball's Tre Gomillion is spreading positivity under new NIL rule
Tre Gomillion, a starting guard and star with the Cleveland State men's basketball team, is taking advantage of the NCAA's new rules and creating his own brand to push positivity.
Tre Gomillion, a junior at Cleveland State University, is looking to spread positivity both on and off the basketball court with his Go Million Lifestyle brand, which launched in July under the NCAA's new Name, Image and Likeness (NIL) rules. 
Previously, NCAA athletes were restricted from profiting off their image. This changed in June 2021, with the NIL finally giving an opportunity for players like Gomillion to create and profit from their on-court success and contribution to their school.
"Seeing other high fashion companies have regular names and people pay hundreds of dollars for simple clothing from them, so why can't I do that?" Gomillion said. "My last name sounds better and I am actually pushing a positive lifestyle and my brand is completely family made and operated."
The Go Million Lifestyle brand is focused on three things: hard work, family and positivity. For Gomillion, the goal of spreading positive vibes is one he pursues in the locker room and in his everyday life. 
"In the locker room I just try to be the guy to lighten up somebody's day," Gomillion said. "(It is the) same thing in life just being that person to brighten up a room and joke around so people know that whatever they are going through is OK. We all go through things and you never know someone's daily troubles so I try to make them laugh to always have them in a good mood."
Gomillion isn't the only Viking taking a hold of the new NIL opportunity. His teammate, sophomore Meechie Terry, also has his own clothing brand - BaldFam.
Terry's brand stems from his famous hairline as he began balding at the age of 14. Instead of succumbing to the constant harassment to shave his head and just be bald, Meechie embraced his natural look and encouraged others to be proud of who they are. 
BaldFam currently offers four shirts (two designs available in black or white) and two different pairs of socks. 
The Go Million website has four different shirts available for purchase. This is only the start for Gomillion, who says he has bigger plans for the future. 
"I just envision growing it and getting more products. Come up with more ideas and get people to actually push the message of the brand," Gomillion said.
Last year, Gomillion won the Horizon League Defensive Player of the Year, becoming the third Viking to ever win the award. Meanwhile, his 10.3 points per game helped push Cleveland State to the NCAA's March Madness Tournament for the first time since 2009. 
Gomillion says that hard work, positivity and family have all been vital to his success. Now, he wants to spread that success with as many people as he can through the Go Million Lifestyle brand.