Image
Credit: Cleveland Skyscrapers
Rhodes Tower - what's in a name?
From structural problems stretching back to its opening, to a controversial namesake, CSU's Rhodes Tower has been an icon on campus that is set to be renovated into student dormitories as part of CSU 2.0.
Rhodes Tower has not only been an integral part of Cleveland State University's campus, but it has also served as an iconic landmark in Cleveland's skyline. 
Now, it's central to the university's new logo and CSU's plans for an ambitious revamp of the university, known as CSU 2.0, despite problems with asbestos, leakage and even its name.
Cleveland State University's new logo from the university's website.
History of the building
Built from 1968 to 1971, Rhodes Tower has had a tumultuous history – from structural problems stretching back to its opening, to its controversial namesake, former Ohio Gov. James Rhodes. 
Currently, it houses 21 floors of administrative and department offices situated atop the first four floors of the Michael Schwartz Library.
Prior to the building's opening in 1971, there were concerns about the floors shifting due to low-quality bolt fasteners from Japan. These were then replaced with bolts made in the United States, but this did not end the decades-long structural issues with Rhodes Tower.
In 2009, waterproofing treatment to the roof caused ceiling tiles on the 19th floor to be moved, which exposed asbestos in the process. The 19th floor was then closed in 2009 for asbestos treatment but is still closed today due to the continued presence of asbestos. 
In 2011, university officials questioned Rhodes Tower's purpose and its future since the presence of asbestos would increase renovation costs, which would not be possible without asbestos removal. The federal government considers asbestos a cancer-causing substance, but unlike most other developed countries, the U.S. has not banned its continued use in some construction materials.
University officials reported in 2017 that it would cost $122 million to replace the building. CSU's then President Ronald Berkman noted that, "The building has much more integrity than it had seven or eight years ago." Due to congestion, the CSU board of trustees voted to spend $2.6 million to upgrade the elevators to avoid moving classrooms to other buildings.
Problems have continued into 2023, as Cleveland State deals with the clean-up from a winter storm that caused pipes to burst in the Michael Schwartz Library on Dec. 27, 2022. This led to the library being flooded and the destruction of thousands of books. The library has more information here.
CSU 2.0 imagines a completely new history for Rhodes Tower: "Plans for CSU's signature building call for student life and social space around the library on the first four floors of the building and 13-floors of new housing for nearly 500 students."
Image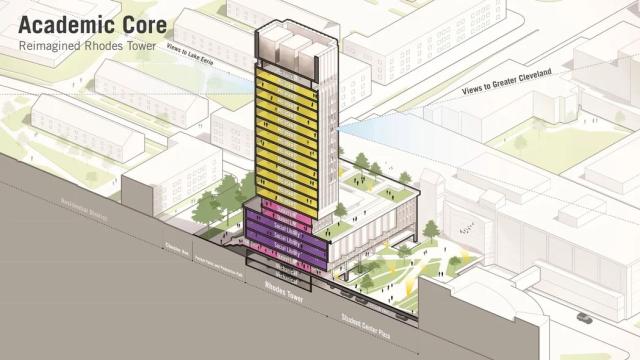 In its CSU 2.0 master plan, the administration plans to turn Rhodes Tower into student dormitories
and social space around the Michael Schwartz Library (credit: Crain's Cleveland Business, Nov. 17, 2022).
What's in a name?
Rhodes Tower was named after former Ohio Gov. James Rhodes, who was responsible for signing the legislation to establish Cleveland State University as Ohio's seventh state university in 1964.
He is better known as the governor who authorized sending the Ohio National Guard to quell antiwar protests at Kent State University, resulting in the Kent State massacre on May 4, 1970, during which guardsmen shot dead four students.
In a lawsuit brought by wounded students and the parents of the four dead students, a federal jury exonerated Rhodes on Aug. 27, 1975 for any responsibility in the shootings after he ordered the National Guard onto campus.
"I had a duty to perform, and the least I could have done would be to perform my duty," Rhodes said, following the verdict.