Image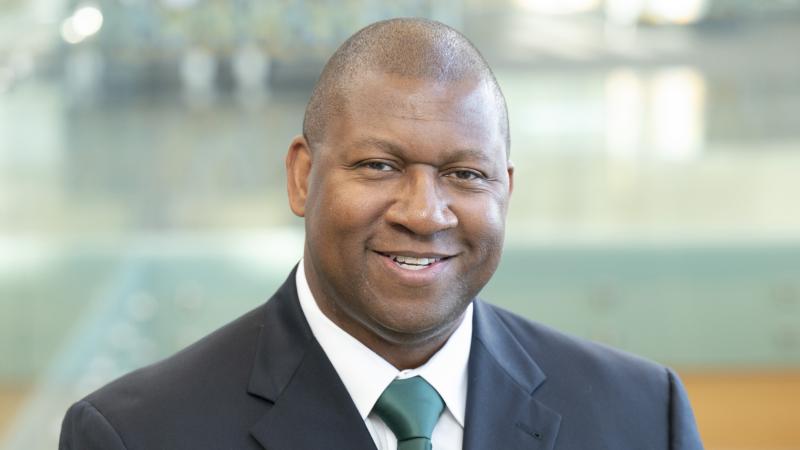 Credit: CSU Marketing
CSU's head of marketing discusses the school's new brand
Dr. Roy Gifford said Cleveland State's marketing team worked to research what the university needed in a brand for its CSU 2.0 plan, prior to jumping in to create a new one.
Cleveland State University unveiled a new logo at the start of spring 2023 as part of its rebranding linked to the revamp of the university known as CSU 2.0. Central to its creation was the university's marketing team, led by Vice President and Chief Marketing and Communications officer Roy Gifford, Ph.D.
The Stater spoke to Gifford about the rebranding, the new logo's relationship to CSU 2.0 and what the university hopes to achieve with the new look.
"We established CSU 2.0 only about a year and a half ago," Gifford said. "We knew when we set that vision that we needed to make sure we thought about a brand positioning look and feel that was going to embrace that vision for the future."
Gifford started at CSU Aug. 1, 2022. Shortly after he began contributing to the process of creating the university's new look, including research that went into the rebranding.
Gifford said CSU brought higher education marketing strategists Carnegie in to assist.
"When Carnegie went out and did their initial research, they spoke to over 1,900 folks," Gifford said, "students, alumni, faculty and our corporate and community partners."
Core to the rebranding is the logo, which Gifford said CSU designed internally, rather than use an outside source as it did for the brand research. The university's own graphic design team, including a student intern, contributed to the logo's design.
RELATED STORY - Students respond to the new logo.
With the logo, Gifford said that Cleveland State sought out to create a brand message that "celebrates CSU's heritage" and pays homage to the university's location in downtown Cleveland. 
"We believe that as CSU rises, so does northeast Ohio," Gifford said.
The new logo seeks to emphasize this message, as it is meant to represent the university's location within the city atmosphere. More specifically, it centers on one the most noticeable buildings on campus, Rhodes Tower.
"The reason why Rhodes was prominent in the Cleveland skyline silhouette was because as you drive into downtown Cleveland, Rhodes Tower is one of the first buildings that you will see," Gifford said. "It is iconic to our campus and it also marks our location of the campus, which is right in the heart of downtown Cleveland."
You can find more about the rebrand at CSU's website.