Image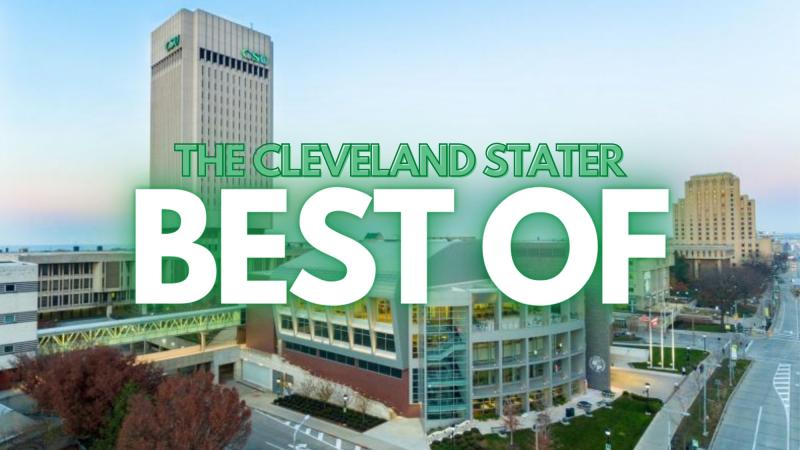 Credit: Lucia Rosace
"Best of" The Cleveland Stater spring 2023 #1
A selection of the best reporting from The Cleveland Stater.
In this edition of the "best of" The Cleveland Stater, the university celebrates Black History Month and the first birthdays of campus companions Rune and Thor. We speak to CSU's head of marketing Dr. Roy Gifford about the school's rebranding and new logo featuring Rhodes Tower. We also cover a damaging flood in the Michael Schwartz Library and a protest held by the Solidarity for Palestinian Human Rights student organization at CSU. 
---
Image
Black History Month 2023 opened Feb. 1 at CSU, recognizing Black History and amplifying Black voices with the theme of "Black Resistance." Black History Month has been nationally recognized for nearly five decades, but its history spans over a century. Students, staff and faculty at CSU can partake in activities and events being held on campus all month long.
Read the full story: What is Black History Month and why do we celebrate it?
Reporter:  KASEY SHERIDAN
---
Image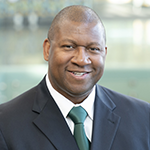 The Stater interviewed CSU's Vice President and Chief Marketing and Communications officer Roy Gifford, Ph.D. about the new logo unveiled at the start of the semester as part of the revamp of the university known as CSU 2.0. Gifford said that Cleveland State sought to create a brand message that "celebrates CSU's heritage" and pays homage to the university's location in downtown Cleveland.
Read the full story: CSU's head of marketing discusses the school's new brand 
Reporter: TAYLOR LEWIS-KERSLAKE
---
Image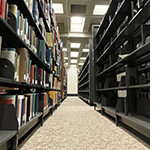 Burst pipes over the winter break led to flooding in the Michael Schwartz Library, located in Rhodes Tower, destroying thousands of books. CSU library workers were notified on Dec. 27 that water had poured down from floors above, turning books to pulp and damaging other library property. Workers moved quickly to dispose of damaged books and dry those that hadn't been totally ruined.
Read the full story: Thousands of books lost when pipes burst in the Michael Schwartz Library
Reporter: KARYSSA ROSE
---
Image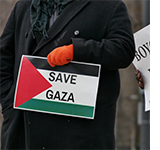 The Solidarity for Palestinian Human Rights student organization at CSU held an emergency demonstration in Public Square Feb. 3 after Israeli forces killed nine Palestinians in the Jenin refugee camp in the occupied West Bank on Jan. 26. Also in Public Square on the day was Alec Popivker, who was arrested Jan. 25 on Cleveland State's campus for violating a student's temporary protection order, and his wife, countering the SPRH protest.
Read the full story: Solidarity for Palestinian Human Rights holds emergency demonstration
Reporter: RYAN YEARY
---
Image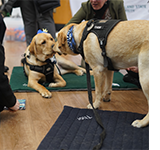 CSU's companion pups, Rune, left, and Thor, are quite possibly the most popular members of the campus community. They invited us all to their birthday party on Jan. 23. The event highlighted the goodwill the dogs bring to campus and encouraged the community to give back by setting up collection bins and accepting donations for Lift Up Vikes!, CSU's Food Pantry and the Resource Center.
Read the full story:  Cuteness overload! A "paw-ty" worth attending
Reporter: JAYLA SALTER 
---
For the full stories and more, visit The Cleveland Stater online, and follow us @ClevelandStater on Twitter, Instagram and Facebook.
Have any news tips, comments or suggestions? Contact us! Either on social media or directly via email: cleveland.stater@csuohio.edu.