Image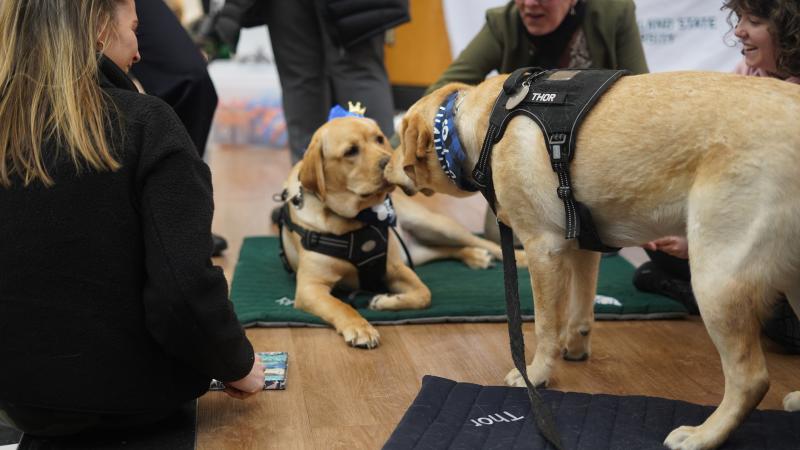 JAYLA SALTER - posted January 26, 2023
Cuteness overload! A "paw-ty" worth attending
Students and staff gathered in Cleveland State University's Student Center Atrium on Jan. 23 to celebrate the first birthdays of Rune and Thor, the university's campus companions.
After a weekend filled with snow, Cleveland State University celebrated the first birthdays of Rune and Thor, the school's companion dogs, in the Student Center Atrium on Jan. 23. 
The pups are handled by the campus police department (CSUPD) which brought Rune and Thor to Cleveland State in spring 2022 when it established a therapy dog program.
Monday's party gave students a chance to start the spring semester on a warm and furry note! Selfies with the pups, smiling faces all around, belly rubs for the dogs and cupcakes for the humans was the order of the day!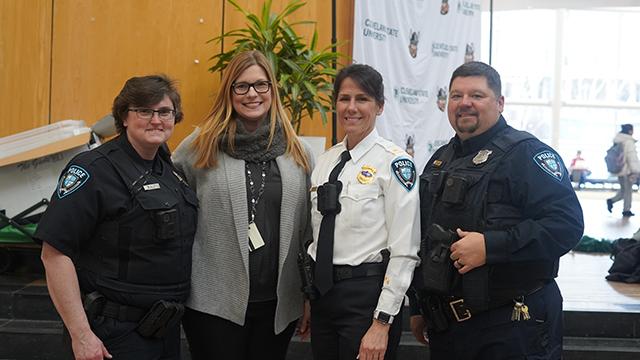 The event highlighted the goodwill the dogs bring to campus and encouraged the community to give back by setting up collection bins and accepting donations for Lift Up Vikes!, CSU's Food Pantry and Resource Center. 
CSUPD Chief Beverly J. Pettrey and Officers Toni Jones and Thomas Lear teamed up with alumni and corporate relations to bring the event to campus.
"The dogs are truly our community members, they are community ambassadors," said Ann-Marie Connors, alumni relations and corporate engagement executive director.
Thor and Rune can be found every day, somewhere on campus bringing happiness into every room they enter. Officer Jones is the handler for Rune, and Officer Lear is the handler for Thor. 
"Everyone that experiences these dogs has a smile," Jones said.
The party was proof of that. Everyone there had a smile on their face while interacting with the dogs, even if it was just for a minute.
Trying to keep all the students happy is a big task for Thor and Rune. But it doesn't stop there. Alumni relations often teams up with the police department to have them at its events.
With the support of CSU's senior leadership team, events like pup pop-ups before exams and having the dogs at other campus activities at CSU are likely all spring.
"I love events like this, ever since the dogs have been brought on campus, it makes people's day to see the therapy dogs," said Brenna Hall, a junior majoring in post production at Cleveland State's School of Film & Media Arts
If you missed the dogs on Monday, you missed a cuteness overload!
See all the photos on The Stater's Instagram.