Image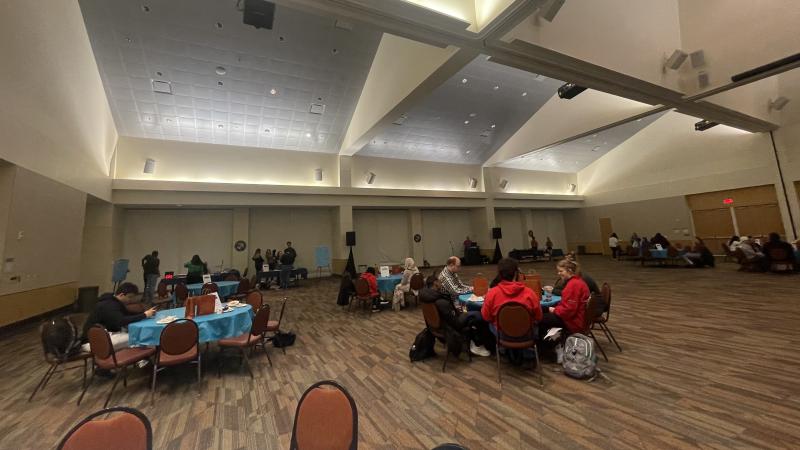 Credit: Karyssa Rose
CAB hosts mixer to celebrate Women's History Month
The annual celebration of Women's History Month included a mixer hosted by CSU's Campus Activities Board, which featured female performers and free goodies for all who attended.
The Cleveland State Campus Activities Board (CAB) hosted a mixer to celebrate Women's History Month this week in the university's stately Student Center Ballroom.
The sound of girl-power jams, by the likes of Arianna Grande and Miley Cyrus, could be heard echoing throughout the Student Center Atrium on Wednesday. The source of the punchy music was the Women's History Mixer that was in full swing on the third floor in the SC Ballroom. The event featured a tasty nacho bar, vibrantly decorated cupcakes, airbrush tattoos, and care packs with comforting gifts for participants. 
After guests finished chowing down on the free food, the female performers took over the room with empowering presentations. Meaningful poetry, high-flying juggling, and contemporary dance were just some of the mediums used to express female empowerment. Ramandeep Arora, CAB's Diversity Chairwoman, had a major goal for the event – to create a safe space for women.
"I wanted to establish a place where women are safe and can have fun," said Arora.
Ramandeep Arora beamed with excitement as her hard work came to fruition at the Women's History Mixer on March 22, 2023, at Cleveland State University. (Credit: Karyssa Rose)
Arora was careful to select food, products, and entertainment from women-owned local companies. She said that CAB hosts an event for Women's History Month annually, but this is the first time they've had female performers. 
"I had a good time planning this event and I want to have more diversity events on campus," said Arora.
Women's History Month originally started as a one-week celebration in 1981 and over the next several years many petitions and resolutions were pushed forth in support of declaring the entire month of March a celebration of Women's History. Today, this month is used to shine a light on the contributions made by women throughout history and the present. 
Cleveland State University participates in the month through several different initiatives to provide a wide range of programs that support female-empowerment. Trivia, basketball, kickboxing, and the mixer are only a few of the uplifting affairs held by the university.
In the SC Ballroom, guests of the mixer sat in awe as a fearless performer played precariously with juggling knives. The camaraderie of the night made one thing clear – Women's History Month makes its mark on CSU.