Image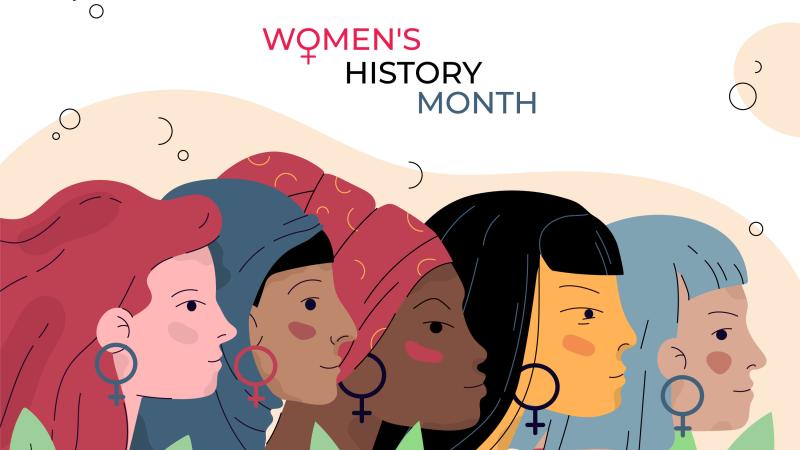 Credit: Freepik
What is Women's History Month and why do we celebrate it?
Women's History Month kicked off on March 1, celebrating the accomplishments of women throughout the world and throughout history. The theme for 2023 is "Celebrating Women Who Tell Our Stories."
Cleveland State University is doing its part in celebrating Women's History Month throughout March with many events hosted by the school.
Until leaders realized the celebration couldn't be contained to a single Women's History Week, Women's History Month was founded in 1987. What started as a single day became a weeklong celebration and, eventually, evolved into the monthlong celebration we know today.
International Women's Day
The first unofficial Women's Day — which was not yet international — took place on Feb. 28, 1909 in New York. The Socialist Party of America organized the day to honor the March 8, 1908 garment workers' march, where 15,000 women marched in Union Square, demanding fair wages and political rights.
In 1910, drawing inspiration from those garment workers, German socialist Clara Zetkin proposed an International Women's Day to the International Socialist Congress in Copenhagen, Denmark, making it an internationally recognized day in Europe.
Following Zetkin's proposal, the first International Women's Day was celebrated in Austria, Switzerland, Germany, and Denmark on March 8, 1911. 
In 1921, the Soviet Union was the first nation to codify women's rights into their laws, and began recognizing International Women's Day.  
Fast forward to 1975 and International Women's Day was first celebrated by members of the United Nations. In 1977, a resolution officially confirmed that a United Nations Day for Women's Rights and International Peace was to be observed once a year by each member of the United Nations. 
That same year, in the United States, a Women's History Week was first proposed.
The history of Women's History Month
In 1978, the Education Task Force of the Sonoma County Commission on the Status of Women in Santa Rosa, California held a "Women's History Week" the week of March 8 to extend the celebration of International Women's Day. The week also encouraged schools to comply with Title IX, a 1972 resolution that prohibited sex-based discrimination and harassment in educational settings. Other communities across the country began to follow in Sonoma County's footsteps, recognizing women and their accomplishments in the week of March 8. 
In 1980, after successful lobbying by the National Women's History Project (known today as the National Women's History Alliance), President Jimmy Carter officially recognized the week of March 8 as Women's History Week with a presidential proclamation.
"I urge libraries, schools, and community organizations to focus their observances on the leaders who struggled for equality — Susan B. Anthony, Sojourner Truth, Lucy Stone, Lucretia Mott, Elizabeth Cady Stanton, Harriet Tubman, and Alice Paul," President Carter said in his proclamation on Feb. 28, 1980. "Understanding the true history of our country will help us to comprehend the need for full equality under the law for all our people."
The official recognition of the week of March 8 as Women's History Week was undoubtedly a step forward, however numerous states and communities realized that a celebration of such proportions couldn't be contained to a single week.
By 1986, 14 states were already recognizing the entire month of March as Women's History Month.
On March 12, 1987, Congress passed Public Law 100-9, which officially established March as Women's History Month. From 1988 and until 1994, Congress passed resolutions that would request the President to make an official proclamation recognizing Women's History Month, and since 1995, every president has issued one. President Biden's 2023 Women's History Month proclamation here.
You may still be asking yourself: how is March significant to women's history?
As mentioned earlier, Women's History Day falls on March 8, but a number of other events significant to Women's History also fall in the month of March. 
The first march on Washington by women suffragists occurred on March 3, 1913, and the National Woman's Party was formed in March of 1917. The aforementioned Title IX was passed on March 1, 1972, and the Equal Rights Amendment, guaranteeing equal rights to citizens regardless of sex. 
"Celebrating Women Who Tell Our Stories"
Since the month's official establishment in 1987, the National Women's History Alliance has designated a theme for each Women's History Month. Some past themes include "Heritage of Strength and Vision" in 1989 and "Working to Form a More Perfect Union: Honoring Women in Public Service and Government" in 2016.
This year's theme is "Celebrating Women Who Tell Our Stories."
The theme aims to encourage communities throughout the United States to honor and celebrate women storytellers, past and present. Including authors, musicians, actors, scholars, playwrights, and all women who use or have used their voices to pass down stories of the womankind's experiences from generation to generation.
Some famous woman storytellers include Ida B. Wells, Toni Morrison, Maya Angelou, Gloria Steinman, and Marjory Stoneman Douglas.
CSU celebrates Women's History Month
CSU is hosting numerous events to celebrate both Women's History Month, including:
"Women's History Mixer" on Wednesday, March 22, hosted by CAB, from 6 to 9 p. m. in the Student Center Ballroom. The mixer/talent show has a theme of "Disney Female Empowerment" and will feature food, dances, and women-owned local businesses.

The Mandel Honors College is hosting a "Fireside Chat on Intersectionality" on Friday, March 24, from 4 to 5 p. m. in Berkman Hall room 103. Speakers include Alexandra Higl-Timms of the CSU Women's Leadership Institute, Carissa Newsome, a CSU alum, and other faculty and staff. RSVP with Liz Kravanya at d.kravanya@vikes.csuohio.edu.

"Salary Negotiation," a discussion being held by The Women's Center and Career Development & Exploration in Rhodes West room 220 from 11:30 a. m. to 12:30 p. m. on Tuesday, March 28, aims to empower women to learn how to negotiate for equal salaries.

"Consciousness Raising with Dr. Lyz Bly" will shed light on current events as they relate to gender equity with Dr. Lyz Bly of CSU's Women & Gender Studies Department. It takes place on Thursday, March 30, and students can send their RSVP to Dr. Bly at e.bly@csuohio.edu.

"Tell Your Story: Sexual Violence Awareness," a campaign collecting anonymous stories of sexual violence, assault, harassment, etc. experienced by members of CSU's campus community, will run until March 31. Submissions can be placed in the large yellow mailbox in front of the Women's Center, Berkman Hall room 142, and can also be submitted online

here

. Taking action against sexual assault will be highlighted during April, which is relatively regarded as Sexual Assault Awareness Month. Stories will be shared anonymously on Monday, April 6, during the "Our Stories, Our Voices" event from 11 a. m. to 3 p. m. in the Student Center Atrium.

CSU's Women's Center and Counseling Center have collaborated to host "Women Talking," a program that offers a safe space for women students to discuss issues important to them. Register and find more info

here

.
More information about on-campus events can be found on CSU's website.
For information about Women's History Month events being held by the City of Cleveland, visit ClevelandOhio.gov.