Image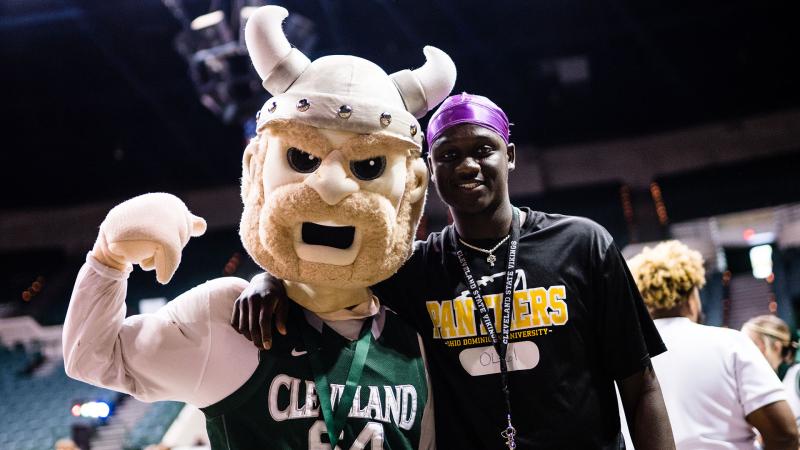 Credit: DeAndré Patrick
Vikes connect at 2022 MagnusFest
The fall semester began with a campus fair, entertainment and food for new and returning students.
Image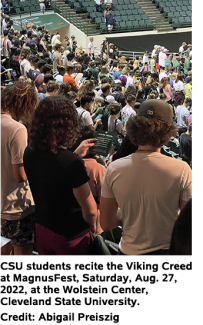 Cleveland State University held their annual MagnusFest, Saturday, Aug. 27, at the Wolstein Center. The free event was open to CSU students to kick off the fall semester.
The celebration began with a welcome from CSU President Laura Bloomberg and other university dignitaries.
Bloomberg asked students to do two things this semester: set goals and ask for, seek and expect the help needed to achieve them. She encouraged students to share their goals for the semester with others seated around them.
"The truth is you are the important people," Bloomberg said to the crowd. "There is no president or vice president or athletics director or provost if there aren't students to serve. That is our job every single day. That's why we're here today and that's why we're so eager to start this semester." 
After the address, students had the opportunity to connect with university programs, student organizations and local downtown businesses at the campus fair. Booths located in the walkway  of the Wolstein center were filled with organizations there to spread their message and give students a chance to get involved. 
"Having a table at MagnusFest is really beneficial to get our name out to freshmen who might not know who we are on campus," Megan Mullaly, managing editor for The Vindicator, said. 
Students connected with one another and special guests Pozzie, mascot for Cleveland basketball team Charge, and Magnus, Cleveland State's viking mascot. 
Other entertainment included a DJ, karaoke, a picture booth, giant lite-brite, airbrush face painting, caricatures, games, a bouncy house and, not least, free food. 
"Usually I feel really anxious about big events like this, but being here I felt really calm and kinda welcomed already," Laur Davie, a freshman studying theater, said.