Image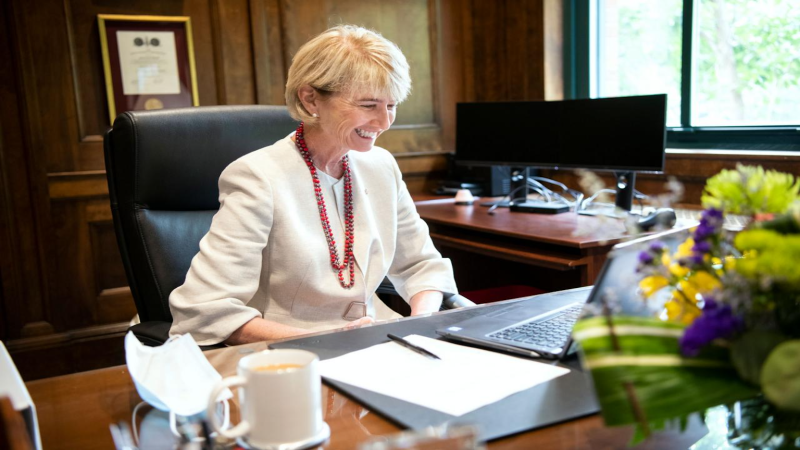 Credit: Ohio State University
OSU president resigns midway through term
Ohio State University's Kristina Johnson, Ph.D. confirmed in a letter Monday to the OSU community that she will be leaving her position at the end of the school year in May 2023.
Ohio State University President Kristina Johnson, Ph.D. has announced that she will step down from her position at the end of the school year, in May 2023, after being in the position for three years. Johnson confirmed in a letter to the OSU community on Monday what multiple media outlets had already reported.
Johnson thanked OSU faculty and students in the letter.
"I am very proud of all that we have accomplished together," Johnson wrote. "It's been a privilege to serve this incredible university, and I have been honored to work as part of this brilliant, dedicated and passionate community."
But she gave no reason for her departure as president midway through her current five-year contract with the school. 
Johnson started at OSU in September 2020 as the university's 16th president, only the second woman to hold the post, and first OSU president who openly identifies as part of the LGBTQ community. 
At the time of her hiring, Lewis Von Thaer, an OSU trustee who led the presidential selection subcommittee said that of the 428 potential candidates the university looked at, Johnson was the clear and obvious choice. 
"We believe that Dr. Johnson is unquestionably the right leader with the right experience and the right energy to propel Ohio State forward yet again at this time," Von Thaer said.
Ohio State is one of the nation's premier public universities, home to about 60,000 students on its main campus and 5,000 across their five regional campuses. 
Johnson said in her letter that she was staying through the academic year to give the university time to search for a successor and to plan for a "seamless" transition between presidents. 
During her tenure, Johnson was able to help OSU navigate the challenges of the coronavirus pandemic and ongoing litigation related to a decades-old sex abuse scandal involving former OSU physician Richard Strauss.
Johnson will be leaving behind an annual salary package worth about $1.2 million dollars.
Her departure comes as a number of leaders of Ohio institutions of higher learning have been replaced in the past 18 months, including in Cleveland at Cleveland State University, Case Western Reserve University and Tri-C (Cuyahoga Community College). 
CSU's board of trustees and President Harlan Sands agreed he would step down in spring 2022. At the time, board chair David Reynolds said "it has become clear that this simply is not a good match for either party going forward."
Laura Bloomberg, Ph.D. replaced Sands as CSU's 8th president and only the second woman to hold the position.