Image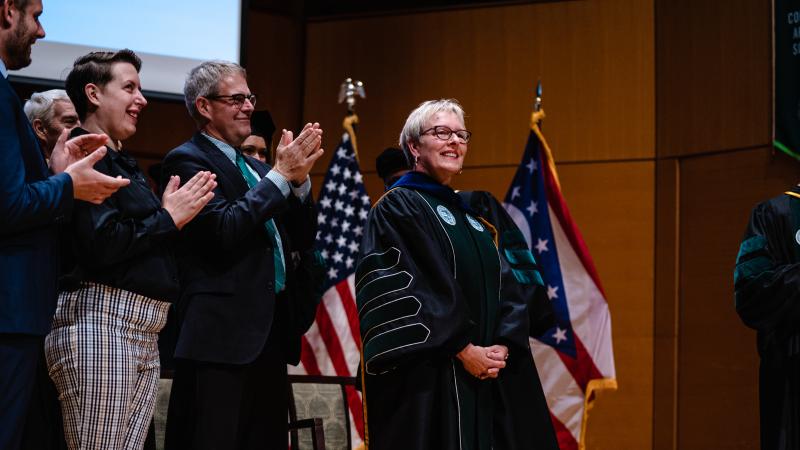 Credit: DeAndré Patrick
Dr. Laura Bloomberg invested as CSU's 8th president
"I am honored and I am proud to serve as your president," Bloomberg said. "You inspire me."
The CSU Board of Trustees formally invested Dr. Laura Bloomberg as Cleveland State University's eighth president at a ceremony in the Waetjen Auditorium on Oct. 7.
"Dr. Laura Jean Bloomberg, as chair of Cleveland State University's Board of Trustees, and upon the recommendation and representatives of the faculty, staff, students and alumni, I hereby invest you with all the rights, privileges, responsibilities and authority pertaining to the office of the President of Cleveland State University," board of trustees chair David M. Reynolds said, as he presented her with the medal of investiture.
Bloomberg responded to the university community. "I am honored and I am proud to serve as your president. You inspire me."
The former provost of CSU was promoted to the position when the board of trustees unexpectedly parted ways with her predecessor, Harlan Sands, in April.
Bloomberg was joined on stage by members of her family, the CSU Board of Trustees, Cleveland Mayor Justin Bibb, university luminaries and presidents of several universities with strong ties to CSU or Bloomberg.  
Ahead of her investiture, guests voiced their support for the incoming president.
"CSU is a cornerstone of our community here in Cleveland," Mayor Justin Bibb told the audience. "I know that CSU is in good hands with Dr. Laura Bloomberg as our president."
"Ohio is so fortunate to have you at the helm of this great institution," Ohio Gov. Mike DeWine said via video. 
Following her investiture, Bloomberg shared her excitement and hopes for the future.
She praised the state's and community's support for Cleveland State and pointed in particular to the long term support of the Levin family for CSU's commitment to urban affairs and public policy. The president announced the renaming of the recently formed college that brings together education, communication, counseling, adult learning, sociology, criminology and urban affairs in honor of the family. 
"I am absolutely delighted to share with you the very exciting news that, thanks to an additional transformational gift and enormous investment in our future, that powerhouse of innovation will forever now be named the Levine College of Public Affairs and Education," Bloomberg said.
CSU's Associate Vice President for Marketing and Communications David A Kielmeyer told The Stater that the college naming was "in recognition of lifetime giving valued at $10 million and the countless hours of volunteer engagement from the Levin family."
Bloomberg used her investiture to lay out her plans to work with different foundations through her presidency, including the Women of color foundation and the Values in Action Foundation.
Bloomberg hopes to connect CSU with the community surrounding it, by working with these foundations and members of the city. 
Image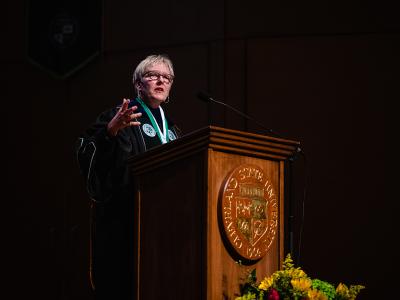 CSU's President Laura Bloomberg delivers her inaugural speech, Oct. 7, 2022. (DeAndré Patrick)
"We are also working with county and city planners to integrate our campus further into the surrounding city and strengthening and expanding our partnerships with businesses, with our fellow hybrid institutions and with community organizations," Bloomberg said.
Bloomberg made her stance on CSU obvious to the audience, even more so than it was before, at the end of the investiture ceremony.
"When our relentless pursuit of learning and the creation of new knowledge is angled toward our collective wellbeing on campus, in our beautiful city full of strong partners and allies and surrounded by remarkable economic, civic, educational and natural resources, we draw ever closer to achieving emotional, physical, environmental, social and spiritual wellbeing of all of us," Bloomberg said. 
"I am so proud to say we are Cleveland State University."