Image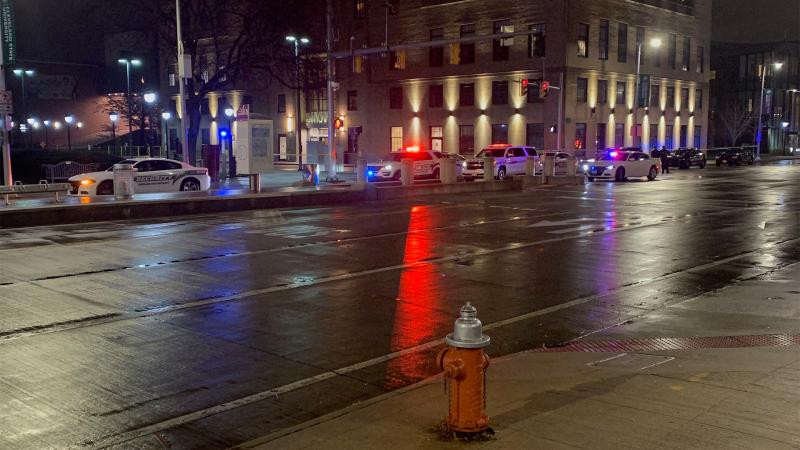 Credit: Jaden Stambolia
CSU targeted with another bomb threat, Fenn Tower evacuated
Cleveland State received another bomb threat late Wednesday, just weeks after a threat targeting the law school on Nov. 4.
Cleveland State police evacuated Fenn Tower on Wednesday, Dec. 1 around 9:18 p.m. after a bomb threat was made. 
First responders, emergency personnel and bomb detection K-9 units from CSU Police, Cleveland Police and fire were dispatched to the scene. Kent State University police also sent an officer to assist. 
Police declared Fenn Tower safe at 11:42 p.m. after an extensive search lasting almost three hours. The search did not turn up any explosive devices or dangerous materials.
"Last night's bomb threat at Fenn Tower remains under investigation," the university said in a statement. "The building was evacuated around 9 p.m. out of an abundance of caution." 
Fenn Tower is a residential complex for first-year students. The 21-story complex can house up to 438 students. It is unclear how many students are living there now due to COVID. However, students must be vaccinated to live in the dorms. 
After students were evacuated from the tower, they were directed to CSU's Rec Center for shelter. Management at the Rec Center said the facility would stay open as late as needed for the residents. 
Students were allowed to leave the Rec Center if they wanted to. Some students found shelter at nearby apartments and Rascal House.
"I think it's weird. I was just trying to do my homework and all of a sudden we're all leaving," Fenn Tower resident Metea Komljenovic said on the threat.
"I'm like, why are we leaving? No one wanted to say anything," Komljenovic continued. "I'm in the rec center, and they're like, 'It's a bomb threat.'"
Wednesday night's incident followed a similar threat targeting the Cleveland-Marshall College of Law on Nov. 4.
The threat targeting the law school is still under investigation.
"The bomb threat investigation case is open and actively being investigated by our CSU detective bureau," CSU police chief Anthony Traska said on Nov. 24. "At this time there is no information I am able to share regarding the investigation."
According to a CSU police report on the November threat, the call came from a blocked number. CSU dispatch described the caller to be a male, approximately 20-25 years of age.
It is also known that a few minutes after the Nov. 4 threat was dialed in, a fire alarm was pulled in the Music and Communication Building, which was also cleared by police and fire. Police reviewed video from the area of the fire alarm and were unable to identify a suspect.
Whether the two bomb threats are related is unknown at this time.
"There is no apparent link to a bomb threat that occurred last month at the CSU Cleveland-Marshall College of Law or other bomb threats at other universities in Ohio and across the country," CSU said in a statement. "The CSU Police is coordinating the investigation with other local, federal, and other university law enforcement agencies."
Making a bomb threat in Ohio is a second-degree felony which could result in penalties and possibly jail time. 
This story will be updated as it develops. 
Follow @ClevelandStater on Twitter for breaking campus-related news.
*STORY UPDATE 12/4/21:
According to a CSU police report, CSUPD dispatch advised officers around 8:47 p.m. that the CSU student working the front desk of Fenn Tower had received a call stating there was a bomb in the building. 
The student described the caller as a female who was whispering and repeating there was a bomb in Fenn Tower.
CSU Police then initiated the process of evacuating all the residents from the building and directing them to safety. 
With personnel from multiple emergency services on the scene, police and fire began the process of clearing the building. 
CSU PD then checked the phone records at the front desk. Upon their investigation, they found the call to be coming from an extension on the 8th floor of Fenn Tower. 
The phone was secured and taken into evidence. At this time, the suspect is unknown.