Image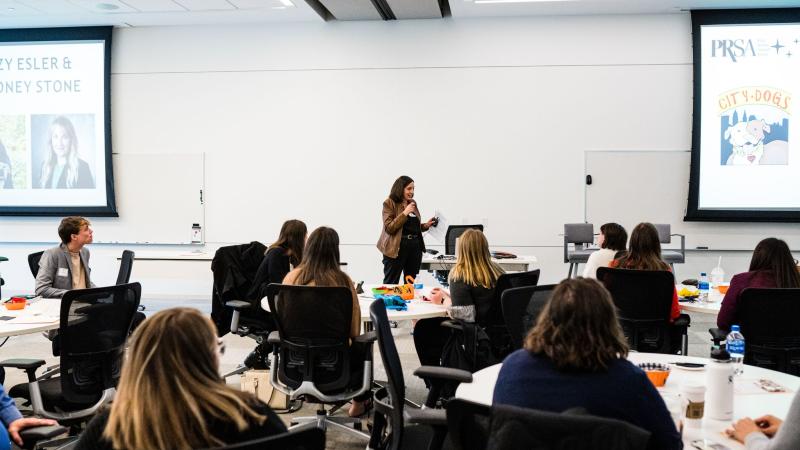 DeAndré Patrick
CSU students learn from professionals at PRSA Cleveland's Student Day
Students from several universities heard from presenters and networked with public relations professionals at PRSA Cleveland's Student Day on Friday, Oct. 21.
College students from across Ohio learned from public relations professionals at PRSA Cleveland's student day, hosted at the Eaton Corporation in Beachwood, Ohio, on Friday, Oct. 21.
60 students from seven different Ohio colleges, including Cleveland State University, went to the event. Those in attendance watched presentations from local public relations professionals and were invited to network with 12 of them afterward.
The event also provided students from Dr. Elizabeth Thomas' COM 447 class at Cleveland State University a chance to put their public relations skills to work. Dr. Thomas' students handled the promotional aspects of the event. The Halloween-themed graphics, websites, flyers and social media presence, were all created by CSU students.
CSU students played a big role in the success of the event.
"Our teacher, Dr. Thomas, is a part of PRSA Cleveland's chapter and for the past two years, Cleveland State Students have worked on planning the PRSA Student Day event," Alexis Figlar, one of the students involved in promoting the event, said. "The event is essentially made to help college students learn more about their future professions, and network with people who can open up opportunities for them. Basically, we were the planners and PRSA Cleveland was our client. Our class worked closely with PRSA Cleveland members, including Dr. Thomas."
The COM 447 students involved in the event were tasked with working directly with officials from PRSA Cleveland to make sure the event went smoothly. Another student in the class, Jenna Kahle, said that the details of Student Day had been in the works for a while.
"We started planning it at the very beginning of the semester," Kahle, a senior journalism and promotional communications major, said. "We created a lot of social media posts and flyers. We also had to work with the PRSA board to plan the general schedule of the day and to get in contact with all the guest speakers and networkers."
Guest speakers included Izzy Esler and Sydney Stone from City Dogs, an animal shelter in Cleveland, Andrea Pacetti, the director of public and media relations at Cleveland Clinic, Joy Smith, the senior equity and inclusion manager at Marcus Thomas LLC, Austin Controulis, the assistant director of communications with the Cleveland Guardians, and Davis Young, a communications professional, and author.
During his presentation, Davis Young took students through an interactive crisis scenario in which he detailed a fictional threat to a college campus and tasked students with developing a plan that a university's public relations office might use in that type of situation. 
Students in attendance appreciated the variety of experiences that the speakers provided.
"Every speaker was super different inside the bubble of our major," Jacob Novak, a senior journalism and promotional communications major, said. "It was nice to hear about how the Cleveland Clinic deals with stuff and how the Cleveland Guardians' (approach) is vastly different. It's like two different worlds inside of one thing."
PRSA Cleveland and Dr. Thomas' class hope that the event helped to prepare students for their future careers in the field of communications.
"I really hope that this event was able to help some students at CSU prepare for their future," Figlar said. "Whether it was from the presentations, the crisis scenario, or actually speed networking and meeting professionals who they wanted to learn more about, I hope that something they learned at Student Day they can take that away with them for the rest of their career. More importantly, I hope that the professionals who attended Student Day possibly met some of their future co-workers, employees, and even bosses."