Image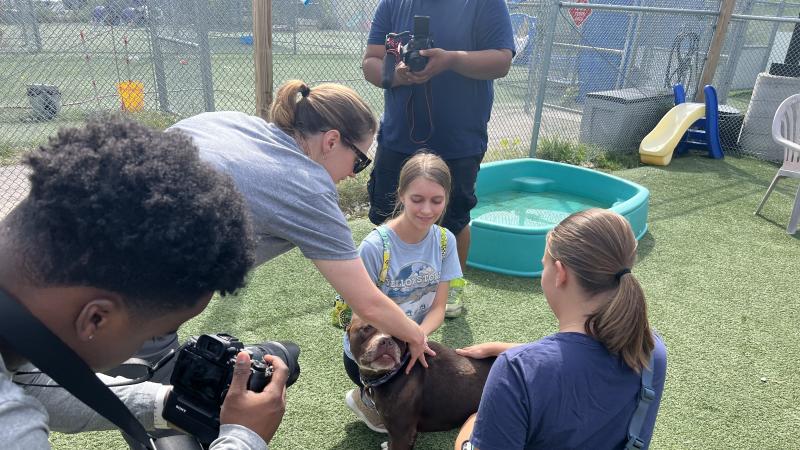 Credit: Abigail Preiszig
City Dogs and CSU students team up to help the pups
CSU School of Communication students are working with Cleveland City Dogs in fall '22 on a PR campaign to help more dogs find forever homes.
Some of Cleveland's abandoned dogs have a new ally, a Cleveland State University class that is helping one of the city's dog shelters find forever homes for its forlorn pups.
Students from COM 430, the digital content production class at Cleveland State University, visited City Dogs, an animal control and care facility, on Friday, Sept. 2 to tour its space and discuss their partnership for the fall semester. 
The class plans to create promotional content for City Dogs to increase awareness, attract volunteers and boost adoption rates. 
"I think it's a really cool opportunity for us to step up some things that have been really scattered," Izzy Esler, City Dogs adoption and volunteer coordinator since 2018, said. "I do a lot of the marketing and social media for this place (City Dogs), but it's been so learn as I go, there has been no strategy behind it."
Esler gave students a tour of the community room — housing extra cages due to an overflow of dogs in the shelter — as well as the dog kitchen where meals are prepared, laundry room, kennels and the yards where the dogs play. During the tour students shot photos and video while they discussed ideas on how to promote the organization.
City Dogs on Detroit Ave. in Cleveland is a program of The City of Cleveland's Division of Animal Care and Control. Its basic operations like staff salary, food and maintenance come from the city budget, but an active volunteer program allows dogs the opportunity for enriching activities such as runs, hikes, play groups and community events.
City Dogs' mission, from its website, is to increase adoptions from the City Kennel by preparing all adoptable dogs in the kennel for lives in loving homes.
"We try to make their lives enriching while they're here," Esler said. "But it's still a stressful place to be. We try to get them adopted as quickly as possible."
Image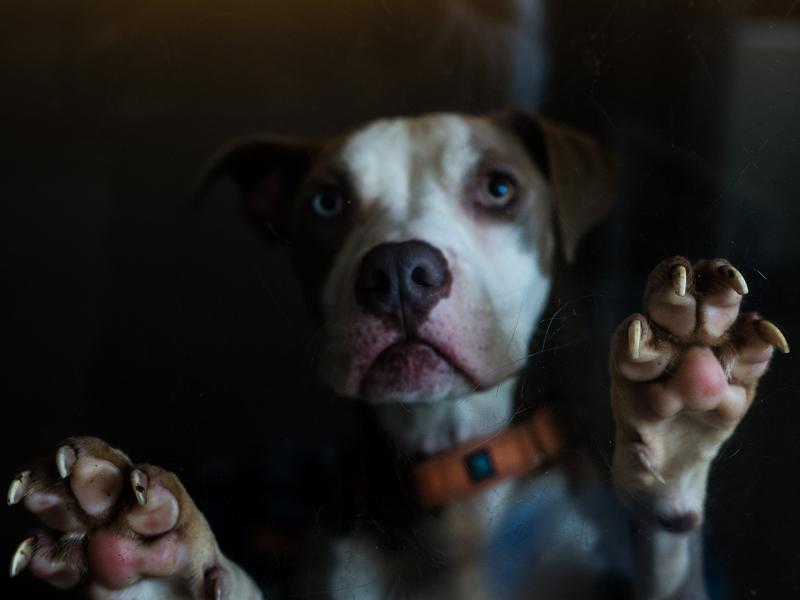 Sherry, a 2-year-old female at Cleveland City Dogs, hoping for adoption, Sept. 2, 2022. (DeAndré Patrick)
The COVID-19 pandemic created a "crisis of capacity" within kennels as people struggled financially and had to surrender their pets, Esler told students. The City Kennel is an open intake facility, meaning they cannot turn a stray dog away, so they can't control their population, making City Dogs' mission more important now than ever. It currently has 112 dogs up for adoption. 
The idea to partner with City Dogs came from Beth Thomas, professor of communications teaching COM 430, after speaking with Sydney Stone, a fellow Public Relations Society of America (PRSA) member and loyal City Dogs volunteer, who suggested the partnership.  
"I thought it would be a great way to help out the community and be a really good experience for me and the students," Thomas said.
After the tour, students played with three dogs: 7-year-old Oak, 4-year-old Erica and 2-year-old Christina Waguilera, all American Pit Bull mixes, the most commonly found dog breed in the city. 
"I think it's a really good experience to be consistently working with a partner and have a partnership to build up my portfolio," Caylie Obert, a senior film student in COM 430, said while playing with one of the pups. "I think it's great that we are also working with these dogs, so we're also able to get some homes for them and show off their personalities.