Image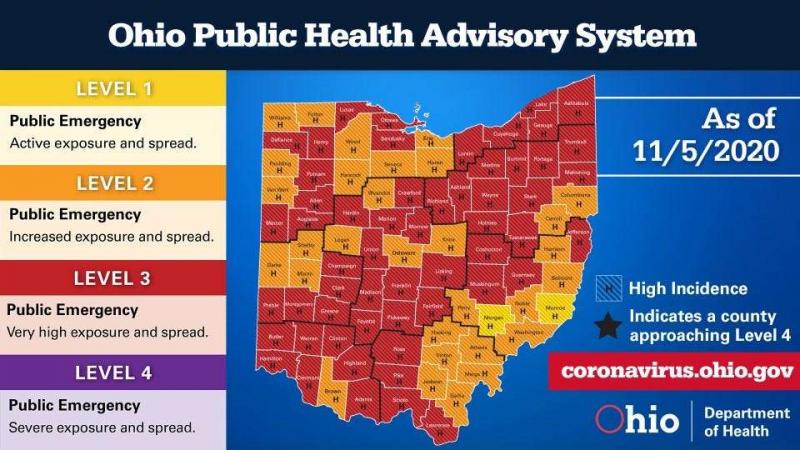 Credit: Ohio Department of Health
Ohio begins curfew, Cuyahoga County issues a stay home advisory
Ohio Governor Mike DeWine has ordered a 21-day curfew, Cuyahoga County wants people to stay at home and Cleveland State University is going remote after the Thanksgiving break as coronavirus cases continue to climb across the state.
Cuyahoga County and the city of Cleveland have issued a stay home advisory that went into effect on Wednesday, one day prior to the statewide nightly curfew that began at 10 p.m. on Thursday. 
"The stay at home advisory is something we take seriously," Mayor Frank Jackson of Cleveland said. "It's something we take seriously because it's in everyone's benefit." 
The advisory strongly advises residents to avoid travelling in and out of the state of Ohio and to forgo having guests in their homes for upcoming holidays. 
Residents have been advised to only leave their homes for essential needs; school, work and medical care. They've also been asked to not conduct or attend any private gatherings with guests who are not members of their household. 
Public events will be limited to no more than 10 people. This applies to indoor and outdoor events, weddings and parties.
However, it's unclear how effective it will be as no enforcement is attached to the advisory.
DeWine orders a 10 p.m. to 5. a.m. curfew for Ohio
The Cleveland and Cuyahoga County moves come as Ohio Governor Mike DeWine ordered a 21-day curfew as coronavirus cases continue to climb across the state. 72 of the state's 88 counties are now on red alert, and Franklin County has been designated purple the highest alert level, DeWine said on Thursday.
The governor announced on Tuesday that the Ohio Department of Health would issue a 10 p.m. to 5 a.m. statewide nightly curfew beginning on Thursday. 
The curfew will not apply to those going to or from work, those who have an emergency, or those who need medical care. The curfew is not intended to stop anyone from getting groceries or going to a pharmacy. Picking up carry-out or a drive-thru meal and ordering for delivery will be permitted, but serving food and drink in person must cease at 10 p.m. 
"We're not shutting down, we're slowing down," said Governor DeWine. "The curfew is aimed at helping to reduce the number of person-to-person contacts because the only way virus lives is when it goes from one person to another. We have to flatten this curve again and get this under control."
The decision to impose the curfew was made with input from the medical and business communities with consideration to the economic and mental health impacts that another shutdown could cause. 
"This is a balanced approach that will slow down people coming together and impact the spread of the virus to the point that it can be controlled, and at the same time, not cause a catastrophic effect in the economy," said Lt. Governor Husted. "You have to care about both the economy and health — you can't just care about one in isolation. Based on all of the recommendations we considered, a curfew was the most impactful option with the least disruption." 
DeWine also encouraged Ohioans to do simple things each day that will decrease the spread of the virus: mask-wearing, social distancing, and limiting the number of daily contacts.
There are 312,443 confirmed and probable cases of COVID-19 reported in Ohio and 5,772 confirmed and probable COVID-19 deaths as of Nov. 17. 22,846 people have been hospitalized throughout the pandemic, including 4,250 admissions to intensive care units.
More details can be found here on the state's strategy for combating the pandemic. 
Cleveland State University to go remote after Thanksgiving break
Cleveland State University told students on Nov. 17 that the school is going to remote learning for the majority of classes after the Thanksgiving break. This change will begin on Nov. 30 and last the rest of the semester. For more on CSU's COVID-19 and end of semester strategies, see these FAQs.