Image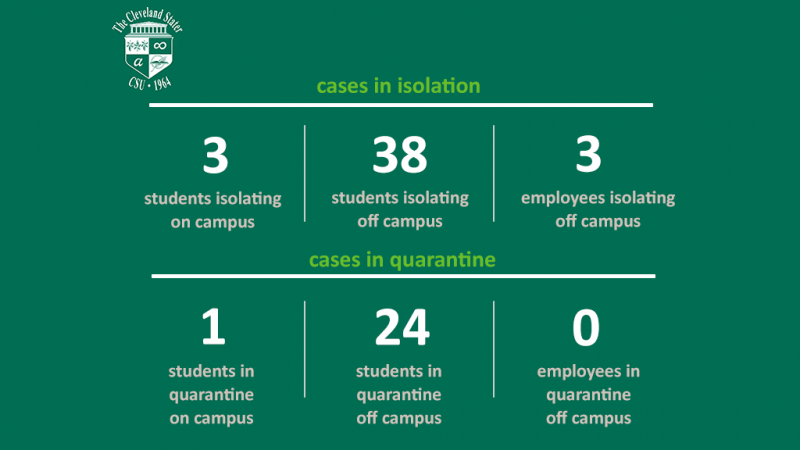 Credit: Tony Pesta
CSU: COVID-19 weekly dashboard (9/8)
Cleveland State University is keeping track of COVID-19 with a database that is updated weekly as students and staff return to campus.
CSU is experiencing spikes in new coronavirus cases only three weeks into the fall 2021 semester.
There has been an increase in nearly every category of the dashboard since September 1. 
The university is now reporting 38 students are in isolation off campus due to a positive coronavirus test. This number was 13 last week.
The number of students in quarantine off campus has risen to 24 from only four the week prior. 
Three employees have tested positive and are isolating off campus. Three more students isolate while on campus. 
One other student is in quarantine on campus. There are still zero employees in quarantine. 
Cleveland State has announced they will re-evaluate their COVID-19 guidelines on October 19. Currently all students and staff members are required to wear masks when indoors regardless of vaccination status. Only students living on campus need to be vaccinated but it is unclear if a new requirement will become part of the school's policy moving forward. 
The possibility of mandates was discussed at a CSU Senate meeting on September 8 when faculty voted in favor of requiring vaccination.
"Keep in mind we are not deciding that there will be one [a mandate], we are simply endorsing it," said Senate President Dr. Robert Krebs after the vote. 
The university is also launching a peer-to-peer education campaign to promote vaccination. Cleveland State will offer information and allow vaccinated individuals to share their stories to encourage other members of the community. Incentives will be included as well, although there are no specifics in the school's announcement. 
The increases at CSU come at a time when Cuyahoga County and the rest of the state are dealing with a spike in COVID-19 cases. 
Cuyahoga County is reporting more than 350 cases per day, a mark they have not reached since February of 2021 — before vaccines were widely available. As a state, Ohio is reporting its most new cases and hospitalizations since last winter's peak (New York Times).
The FDA has approved the Pfizer vaccine and continues moving to approve others (Moderna, Johnson & Johnson). The vaccines are considered by both the CDC and FDA to be safe and effective at reducing the spread of coronavirus and minimizing severe illness. 
The vaccine is available for free on campus for CSU staff and students every Tuesday from 9 a.m. to 4 p.m. in Room 205 of the Center for Innovation in Medical Professions (2112 Euclid Avenue). 
Isolation: An individual who has tested positive for COVID-19 with OR without symptoms and who must isolate for 10 days from either symptom onset or test result, the last 24 hours of which must be fever free and, if symptomatic, symptoms are improving. 
Quarantine: An individual who either meets the CDC definition of being a close contact of a confirmed COVID-19 case or is arriving at CSU from either a domestic hotspot or international location and must quarantine for 14 days from either last known contact with the confirmed COVID-19 case or, in the case of those arriving from hotspot or international locations, the day of arrival.
Via Cleveland State University's COVID-19 Dashboard
CSU COVID-19 Dashboard update Wednesday, September 1, 2021
2 students isolating on-campus

13 students isolating off-campus

3 employees isolating off-campus

0 students in quarantine on-campus

4 students in quarantine off-campus

0 employees in quarantine off-campus
CSU COVID-19 Dashboard update Wednesday, August 19, 2021
0 students isolating on-campus

1 student isolating off-campus

0 employees isolating off-campus

0 students in quarantine on-campus

0 students in quarantine off-campus

0 employees in quarantine off-campus