Image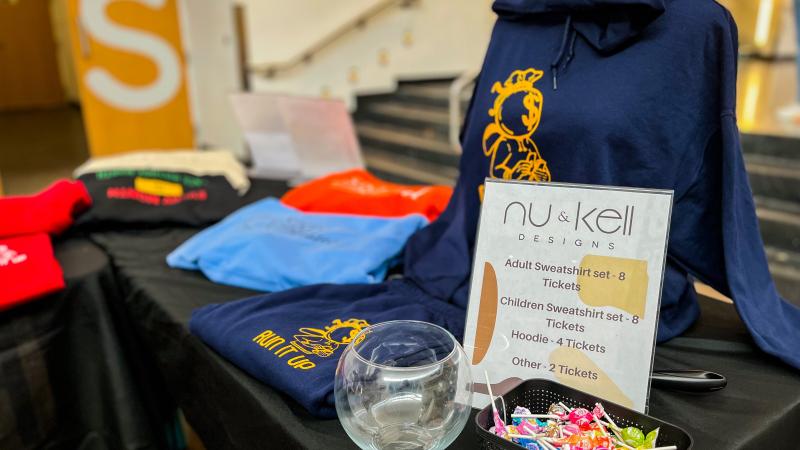 Credit: Kat Magalski
Local Black artists, businesses court CSU students
The Black Business Bazaar brought some of the best of local entrepreneurs to campus, Feb. 21, for an event celebrating local businesspeople and artists, among them Blessed Body Works, Nu & Kell Designs, and Rowell Art.
Local Black entrepreneurs showcased their art to CSU students at the Black Business Bazaar held Tuesday by the Campus Activities Board (CAB) as part of Cleveland State University's celebration of Black History Month.
The bazaar highlighted Cleveland-based small businesses Rowell Art, Nu & Kell Designs, and Blessed Body Works – a candle and body care company run by Sharron Matthews. 
"Being a Black entrepreneur in Cleveland is tough. It's a daily grind and constant prayer," Matthews, 40, said. "The lack of support is a very big issue for small businesses in Cleveland."
Attending events like these is one way for local entrepreneurs to get the word out about their brands. This event not only allowed students to sample and buy products made by local Black artists but also placed a spotlight on the entrepreneurs themselves.
Image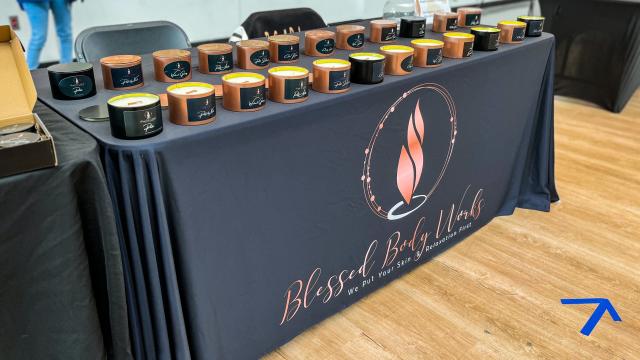 Blessed Body Works featured candles with a variety of scents,
including "Wine Down" and "Rich Auntie." (credit: Kat Magalski)
A line of expectant attendees formed ahead of the 11:30 a.m. opening of the bazaar, with each attendee given 12 tickets to use at participating booths, which then could be used to trade for the art on display.
All businesses attending supplied handmade products that students could take home.
Nu & Kell Designs presented kids' and adults' sized clothes adorned with the owner's designs, whether printed on hoodies alone or paired with matching joggers.
Marquise Rowell, known as Rowell Art, showcased original designs on prints and in the form of stickers.
Blessed Body Works displayed an assortment of candles, including sample boxes with a variety of scents as well as single candles.
In addition to the products supplied by Black businesses, CAB also provided diverse painting kits and air plants.
The most expensive items were eight tickets, such as a matching adult hoodie and jogger set from Nu & Kell Designs or a six-count box of candles from Blessed Body Works. Other items ran at lower prices, such as Rowell Art's stickers at three for one ticket or three tickets for an air plant.
In addition to giving away prints and stickers, Rowell Art also did a live painting where students could stop and watch him at work.
Students passing by the bazaar were given the perfect view
to catch Rowell Art free-hand painting. (credit: Kat Magalski)
CAB also held a raffle during the event, which any student attending could enter with the chance to win an original canvas painting by Rowell Art or a self-care basket. In order to participate, attendees had to spin a wheel upon entry to determine the number of tickets they could enter.
Winners of the raffle were announced on CAB's Instagram following the event.
The event was a success, with tables quickly clearing after opening. Despite the bazaar being scheduled until 1:30 p.m., most products were claimed by noon.
Blessed Body Works' Matthews posted on her Instagram that her candles were gone after only "27 minutes" of the bazaar opening. But seeing the table clear was not her favorite part.
"The most fulfilling part to me is the smiles or messages I receive after one of my candles smells up their entire home and changes their mood instantly," Matthews said.
You can find more about Blessed Body Works and its products here. Additionally, you can view more of Rowell's art here and can purchase hoodies and more from Nu & Kell here.

The next CAB event is the Glow Party, which will take place on Mar. 3 from 8 p.m. to 12 a.m. in Cleveland State's Student Center. The theme this year is "Year 3000," taking heavy inspiration from the Jonas Brothers' song of the same name. If you intend going, remember to fill out the liability waiver, available here.