Image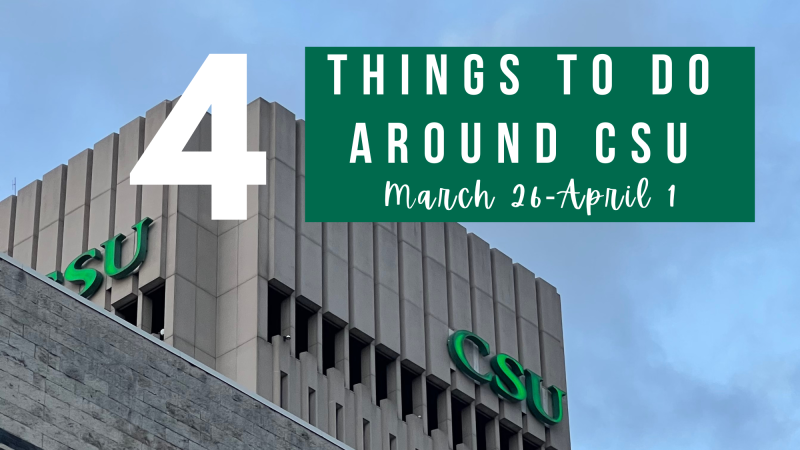 Credit: Kirsten Beard
4 things to do around CSU this week
CSU is offering events to close out Women's History Month, along with the city introducing new and old events throughout the week.
CSU Lax vs. Jacksonville Dolphins
CSU Lacrosse will be facing the Jacksonville Dolphins at 3 p.m. this Wednesday, March 29. The teams will be playing on the Krenzler Field located on CSU's campus on Chester Ave. General admission tickets can be purchased for $5 on CSU's ticket website. 
Salary negotiation with The Women's Center and Career Development & Exploration
CSU's female students can learn to be assertive through their communication from 11:30 a.m. to 12:30 p.m. on March 28 in Rhodes Tower West, room 202 . Learning to highlight valuable achievements and reinforcing what you bring to the company you are planning on interviewing with. No registration is necessary, though there is limited space available. Students can pre-register on Handshake. 
Consciousness Raising with Dr. Lyz Bly 
Join a discussion of current events relating to gender equity hosted by Women & Gender Studies Department's Dr. Lyz Bly from 5:30 to 7:30 p.m. March 30 in Berkman Hall, room 142. She will discuss ways to create fair and equal opportunities to help eliminate gender-based discrimination while promoting an inclusive and fair society and details on successes in news and future trends. For required pre-registration, email e.bly@csuohio.edu. 
Future Superstar Tour 2023 Hosted by Nick Cannon
Artists such as 24kGoldn, Hitman Holla, SYMBA, and others will be performing, along with Nick Cannon hosting, at 6:30 p.m. on March 29 at the House of Blues. Tickets prices vary between $40 to $70 and VIP's may require a negative COVID test regardless of vaccination status. To purchase tickets and find more information, visit their website.