Image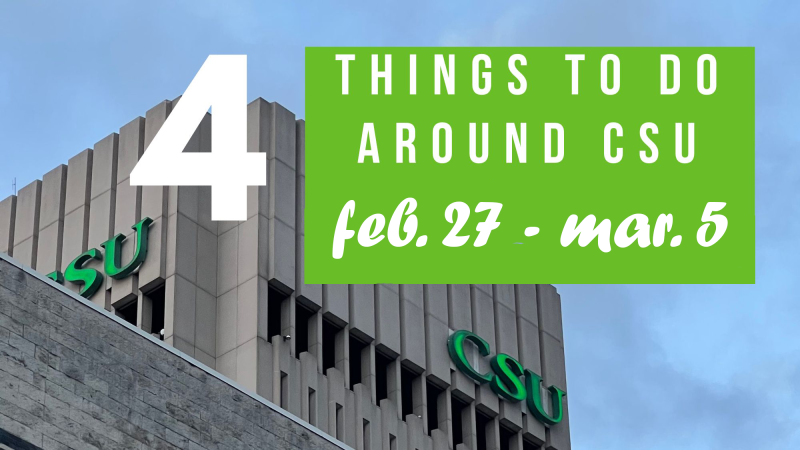 Credit: Abigail Preszig, Kat Magalski
4 things to do around CSU this week
As midterm week rolls around, most students need a distraction from exams and papers. These are just a few ways you can take your minds off things.
March is Math Month at Great Lakes Science Center
The Great Lakes Science Center is hosting Math Month throughout March. The center is highlighting two geometry-based events for anyone to take part in – the Bubblemania Science Show and Hologram Cart Activity. The shows run throughout the week and are available with regular admission. The Science Center offers a discount on admission for college students with a valid ID. Regular adult admission is $19.95 and admission for children 2-12 is $14.95.
Donuts & De-Stress
The Center for Campus Engagement will be popping up in the Student Center Atrium from 11:30 a.m. to 1 p.m. on Thursday, Mar. 2 with donuts and de-stressors. On top of the treats, they will also have stress balls and coloring pages to help students relax during midterms week.
Glow Party
The annual Glow Party hosted by CSU's Campus Activities Board (CAB) will take place on Friday, Mar. 3 from 8 p.m. to 12 a.m. in Cleveland State's Student Center. The theme this year is "Year 3000," taking its inspiration from the Jonas Brothers' song of the same name. All attendees are required to fill out a liability waiver prior to the event, available here.
Colony House at House of Blues
This weekend brings about many concerts in Cleveland, one that caught our eye is Colony House at House of Blues. An indie rock band from Tennessee, Colony House tops the charts with popular songs "You Know It," and "Silhouettes." The show is on Saturday, Mar. 4. General admission is $10 and the concert begins at 7 p.m.
And if you missed the chance last week...
The Skin of Our Teeth
CSU Theatre and Dance stage "The Skin of Our Teeth," the story of an ordinary family battling one disaster after another, including the Ice Age, flood and war. Students, alumni and staff can get discounted tickets for $5 for this event at Playhouse Square. An American Sign Language supported performance will take place March 2. $5-$15, Opens 7:30 p.m., Feb. 23 - March 5, The Outcalt Theatre of Playhouse Square, playhousesquare.org.