Image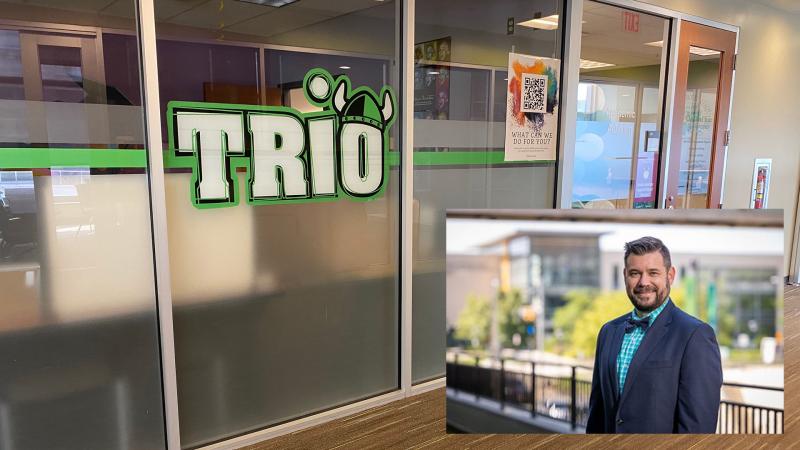 Credit: Allyssa Brand-Bey
College advisers navigate students and themselves through a global pandemic
Cleveland State TRIO adviser Jason Gardner talks about the challenges of doing their job during the pandemic.
The pandemic has altered the job of being a college adviser for nearly the past two years. Advisers had to begin working from home to assist students through not only school but the new challenges everyone was faced with these past couple of years. 
CSU opened their campus fully this fall semester, but there were still precautions and rules in place. All who returned to campus including students and advisors were welcomed back to a hybrid campus that included in-person and virtual meetings.
One of the advising groups that was welcomed back to campus this semester is called TRIO advisers. They specialize in helping first-generation college students. 
"It feels wonderful to be back on campus and having the opportunity to engage with students once again in person," Jason Gardner, a TRIO Adviser, said, explaining that TRIO used a hybrid model of Zoom and on-campus appointments during fall 2021. "There is still a bit of mystery with students and their comfort level meeting in person, but we are doing the best we can to make every accommodation."
Being in person and online has been challenging and different for everyone. Advisers had to become committed as they moved online to adjusting their services to provide students with the help they need. 
"Believe it or not, I don't feel like my advising style really changed. I think the impact you make on a student is really what you're individually willing to put in," Gardner said.  "I've always been committed to helping students be the best version of themselves and this never changed working virtually or not." 
Just like professors, advisers have endured a change to the way they can deliver assistance to their students and the way they interact with them. This can make it very challenging for many advisers to adapt to this new normal. 
Not all advisers felt their job was altered or had major challenges.
"I think for a long period of time I was more focused because I knew this is what was needed to be at my best for the students I serve," Gardner said. "There is nothing wrong with working virtually, and fundamentally I think it helps with employee morale by allowing everyone to take a deep breath and not feel so flustered each morning trying to manage multiple tasks before you even come in and start your day." 
The entire advising office at CSU had to adjust to operating virtually and most importantly, they had to learn how to stay connected with each other and their students. 
"I think our TRIO and First Year Advising Office did a great job of navigating the virtual world by communicating and meeting regularly. I never really felt like we drifted away from our daily activities or students," Gardner said. "Yes, there were hurdles along the way, but TRIO continued all our programming as we would have done if we were on campus to begin with."
The challenges came not only from the job but also the mental status of the adviser as well. They are still humans who had to deal with the pandemic outside of their jobs as well. 
"Personally, with a mother in a nursing home it has been difficult with the 'stops and starts' of visitation," Gardner said. "I feel like the last two years have kept the two of us more distant than I would have liked." 
As we are back on campus, the university has had to make adjustments to ensure the health of students and faculty.  
"I hope the university continues to utilize both forms of engagement and offers more flexibility with staff and faculty," Gardner said. "Do I think students are better off in the classroom? Yes, of course, but we live in a highly evolving technological world and most students are online 65-70% of their day anyway."

If you need help with school or need someone to turn to, look to your CSU adviser first. They are here to help you and to better you within your studies and life. 
To find your adviser, you can log onto CampusNet and go to your Starfish account.