Image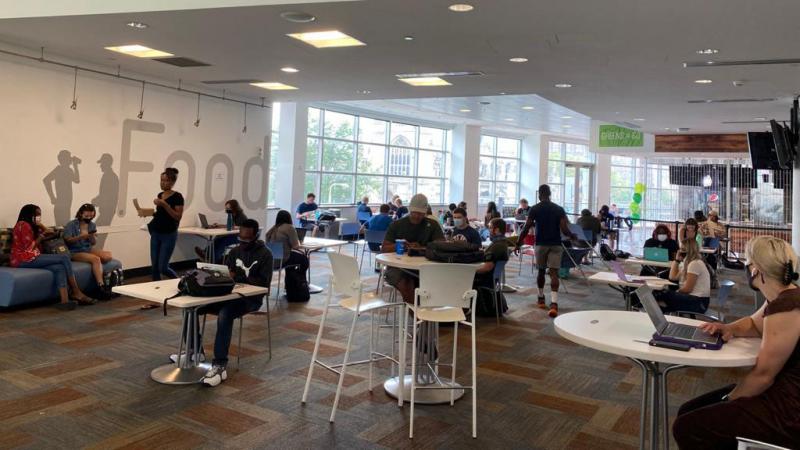 Credit: Sheila Kiss
Students return to in-person learning for the start of the fall semester
Students, faculty and staff shared their thoughts as they were all welcomed back to campus for the first day of classes at the start of the fall semester.
Cleveland State University's campus was once again abuzz as students, faculty and staff returned for the first day of classes on August 23.
Back in April, Cleveland State announced its plans to welcome students back for a "near normal" fall 2021 semester. Classes would take place in-person at full capacity with the proper protocols in place.
"It's super exciting! With the pandemic, you know, being at home was really nice in terms of getting to class, but there's something about being on campus that makes it feel like school and I missed that," Madison Kramig, a mathematics major, said. 
Many students headed back to campus after spending the last year and a half learning partially or fully online.
"I am really happy that we are able to be back on campus," Alyssa Dinapoli said. 
"I was completely remote last year so being able to come back on campus and get that experience is really important," added the sophomore studying occupational therapy.
Students aren't the only ones ready to ditch online learning and come back to the classroom.
"After the last year and a half of lockdowns and so forth and virtual teaching, I'm much looking forward to getting back into the classroom so for me it's a real kind of relief to be back in the classroom," said James Chriss, a professor of criminology, anthropology and sociology. "Even masks is better than being stuck at home and virtual."
Even after the university's announcement on August 8 that it would require masks to be worn inside regardless of vaccination status for all on campus, some students, faculty and staff expressed that this was not an issue as long as they could come back.
"I'm really excited, I had a really hard time learning online and it just already feels better being back in the classroom," Nora Conroy, a senior film student, said.
"And masks don't really seem like an issue, everyone's just embracing it and doing whatever they can to stay in the classroom," she continued.
The cafeteria and dining staff voiced their joy in seeing campus full of students once again.
"I'm glad that they're back, I'm quite sure they're glad that they're back too," said Sandra Kelly who works at Pizza and Pasta. "I'm happy to see them, I've missed them!"
While there is a lot of excitement to be back on campus, some pointed to the safety protocols as a way to ensure students can stay on campus.
"I love the idea of having everyone back, I kind of missed everybody the past year, but as long as we are safe and keep protocol in order, we'll be okay," said Shakita Henderson, a cashier at Grill Nation.
Alongside concerns about COVID-19 safety protocols are also the typical worries that accompany back to school season.
"It's overwhelming, just, I'm taking a lot of classes, but honestly really happy to be back," said Shannon Pipik, a senior double majoring in marketing and graphic design. "And it's very safe just like with all the masks mandates inside the classroom and everything. And all the teachers are really understanding of coming back and the changes for everyone, so it's been a nice transition so far."
Aware of these challenges, one sociology professor plans to have open communication with students as campus returns to life.
"I actually don't start to teach until tomorrow, but I came down just to kind of feel out the energy and it feels great," Robert Kleidman said. "I mean there's always some concerns and that's what we are going to spend our first day in class discussing is 'how are the students feeling?' and what are they feeling good about and what are they concerned about because we can't act like it's a normal year after last year. But I think overall it's just great to be back on campus."
Overall, there is a lot of excitement around campus to be back and experience college with all the advantages of in-person instruction.
"I think that it is amazing that we're able to be on campus as safe as we possibly can." Alexa Oberg, a sophomore on the pre-occupational therapy track, said. 
Oberg, who had a few in-person classes last semester, pointed out the value for students to work with professors in the classroom and gain a real college experience by being on campus.
"I personally feel like I've learned way more in person since I'm a very much visual learner so I think that is extremely important," Oberg said. "I'm so grateful that we have that opportunity to do so."