Image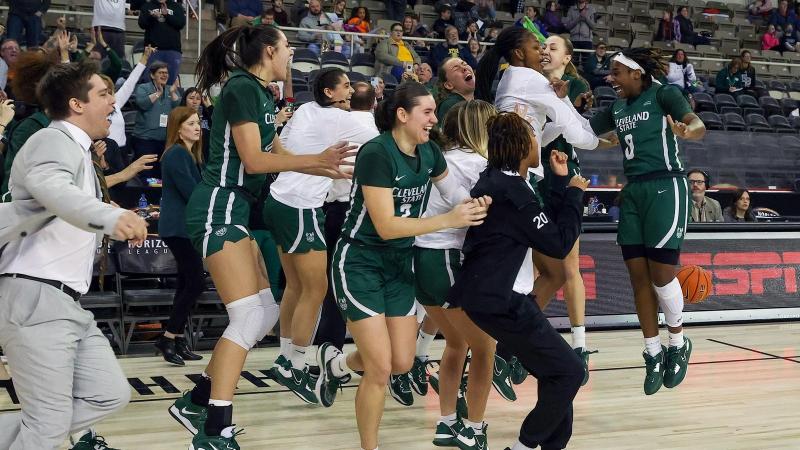 Credit: CSU Athletics
CSU women's basketball team has built its foundation, what's next?
The Cleveland State women's basketball team had its most successful season to date in 2023. But the Vikings are not satisfied.
It's hard for college sports teams to be consistently great.
While some NCAA programs – the University of Alabama football, Duke University men's basketball, women's basketball at the University of Connecticut – are always elite, most teams fall into a murky middle ground where their postseason fate varies from year to year.
Cleveland State women's basketball has been among that dreary pack of middle teams for decades. Since the first women's basketball season at CSU in 1973, the Vikings have a win-loss record of 513-741 and have never been very competitive in the Horizon League Tournament. 
But the tide began to turn for the Vikings in 2021-22. They made it to the Horizon League championship game in March 2022, but lost to top seed IUPUI. That loss spurred this year's team to its best season yet.
Under fifth year head coach Chris Kielsmeier, CSU finished the year with a 30-5 overall record which was the most wins in program history. The Vikings also won the Horizon League Tournament, defeating Green Bay 73-61 on March 7, and earning themselves – for only the third time in school history – an appearance in the NCAA's March Madness tournament. 
Although CSU was eliminated in the first round of the tournament by Villanova, breaking the school record for wins and claiming a Horizon League title were momentous achievements for the Vikings.
The legacy
"We talked a lot in our program about how you want to be remembered, what you want your legacy to be," Kielsmeier said. "This will go down as the most successful women's basketball team in the history of the school. They broke the school wins record by seven games. They won the Horizon League Tournament championship and went to the NCAA Tournament. And that's a significant part of their legacy for the rest of their lives. Every person in the program will forever be able to stake claim to those things."
Cleveland State hopes that 2023 wasn't just a good season for the team, but a program-altering year. The Vikings are hoping that their Horizon League title this season was just the start.
"Winning a championship is what everybody competes for," Kielsmeier said. "Everybody wants it. It's one of the most difficult things to accomplish in college athletics. It's extremely difficult, but when you work year round for it, you put yourself in a position to be at your best in March, and you've got a chance. That's what we feel like this program is going to have a chance to do every year."
Building on foundations already laid
One way the Vikings hope to continue the success they had this past season is by continuing to improve their player development. Cleveland State is a mid-major school, meaning the Vikings will likely never land the highest rated players in the country through recruiting. But, that does not mean the Vikings won't have star players.
Junior Deja Williams averaged 6.6 points-per-game for CSU off the bench. For her strong play as a reserve, Williams was named the Horizon League's sixth player of the year. 
Along with Williams, the Vikings were led by junior guard Destiny Leo. Leo, a graduate of Eastlake North High School which is located about 20 miles east of CSU, averaged 17.9 points-per-game and was named the Horizon League player of the year. Leo is a local product who has developed into a star with the Vikings. All indications suggest that Leo will be back next year for her senior season with CSU. Kielsmeier knows the importance of players like Leo when it comes to building a successful program.
"She's grown in every aspect of her game and off the court as well," he said. "She loves Cleveland State. Being a Viking means everything to her. She's just a phenomenal Cleveland State Viking. She is special on and off the floor and we're just very fortunate to have the opportunity to get to work with her and help her grow every day." 
It is hard to build a good collegiate sports program, but Kielsmeier and the Vikings believe they have laid a solid foundation with their most recent two seasons. Whether CSU's 2022-23 run was simply a flash in the pan will be for the future to tell. But the Vikings are remaining focused on getting better every day and doing whatever it takes to win. 
"We're not done building this program," Kielsmeier said. "We've got a lot more work to do. Everybody in the program is motivated and driven by that. And sometimes, maybe you can let a championship cloud your vision for the future or pull back some of your work ethic. But I can assure you, nobody in this program is going to do that."
For Kielsmeier, next season can't come soon enough.
"We've won one (Horizon League Championship), we went to the NCAA Tournament, and didn't have the success we wanted in the NCAA Tournament," he said. "So we will be as motivated as ever to get back there and actually win some games in the NCAA Tournament next time."