Image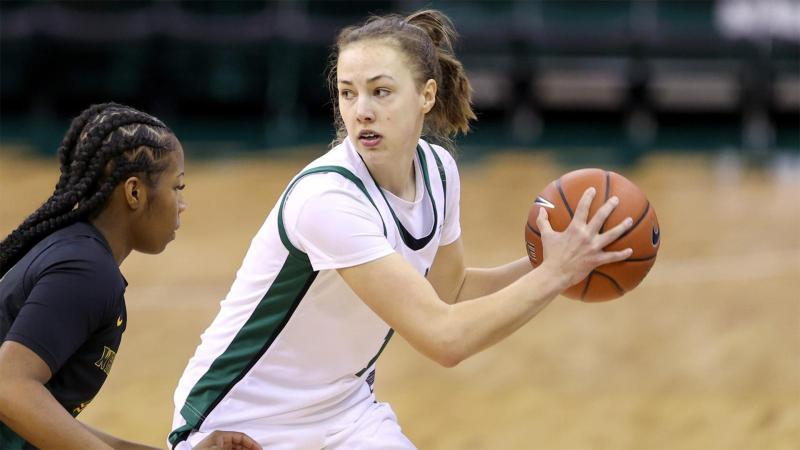 Credit: Cleveland State Athletics
CSU basketball's Barbara Zieniewska has an unlikely journey from Poland
Zieniewska captured a bronze medal with her home country Poland before going to junior colleges across America and making the journey to Cleveland State.
Cleveland State University is known as a commuter school. People from Cleveland and the neighboring suburbs come here because they can travel back and forth from college to home. That is not the case for Barbara Zieniewska, who has commuted from Poland all the way to Cleveland State to play basketball.
Before coming to Cleveland to be a Division I basketball player, Zieniewska had taken a different route than most. She first went west to New Mexico Junior College, where she would only average six minutes per game with over 29 appearances. Then she traveled southeast to another junior college, Panola College in Texas. Here she saw a jump in every statistical category over 17 games played.
She is one of many international students who have come to America not just to study but to play basketball.
"I really wanted to go for the next level, the United States was the best option for me," Zieniewska said on why she chose to come to America to play basketball. "Sometimes it's hard. I feel like I am here because of basketball and that is my goal for my future. Obviously, I miss my friends and family."
Before Zieniewska committed to coming to play basketball in the U.S., she played for her country's national team in the 2017 FIBA U-18 Women's European Championship tournament. That year Poland, with Zieniewska, defeated Great Britain to win the bronze medal. Zieniewska did a little bit of everything in that game putting up five points, three rebounds, five assists and two steals in 27 minutes played. This game would go on to mean a lot for the international athlete.
"It shows how much we had to go through to achieve our goal," Zieniewska said. "It wasn't a gold medal but we deserved a place on the podium. It brings me good memories with my teammates and long-time friends. We were the happiest people in the gym at that moment."
Zieniewska would have to weather adversity for another season as she came to Cleveland State. In her first season with the Vikings, COVID-19 took away a lot of things and made the season different from others. However, the Green and White did not waiver from that, ending the season as Women's Basketball Invitation champions.
Zieniewska credited the postseason run as an extra enhancement to the bond the Vikings have created both on and off the court. 
"It felt good to finish the season on a win and a championship," Zieniewska said. "Because of COVID we couldn't spend a lot of time as a team, but thanks to the WBI tournament, it gave us opportunities to be around each other longer before summer break."
Going from Europe to junior college to playing Division I basketball and winning a championship has not been a major challenge to Zieniewska in terms of adjusting her game. But she does believe playing at a Division I level is harder.
"Junior college is still fun basketball, and obviously people are serious about basketball but not ready," Zieniewska said. "Here it's more serious and the teams we play are better and you can see better players."
One of the main things that Zieniewska mentioned that is different at the Division I level is the longer practices and the lifting of more weights. Despite the different regimen, she said it only took her one month to be able to adjust to that. 
For the style of play, Zieniewska has not so much changed her game as tweaked it, in transitioning from the European style play to that of the Americans. Rules are different and because of that, the European style is more physical and slower vs the fast-paced American style.
"We have 30 seconds on the clock to play our possession, it's still faster than in Europe even though we have 24 seconds," Zieniewska said. "In America, I feel like if you don't get a fast break on the first shot, you are looking for the second and if you can you are going to the plays."
Zieniewska does not have a preference when it comes to favoring one style over the other. This is due to the fact that her game is unique and translates to all levels of basketball. A unicorn on the court, she can do a bit of everything.
In two games against Purdue Fort Wayne last season, Zieniewska averaged six points, eight rebounds, 4.5 assists and 4.5 steals.  
Points are not a priority as Zieniewska focuses on getting her teammates involved and causing chaos for her opposition. 
"I was never the person that wanted to score so many points. I think I was always the person that wanted to make plays for my teammates," Zieniewska said. "Thanks to this good defense, I can have steals and create possessions for myself and my teammates. I am more focused on that than scoring."
With this unselfish attitude Zieniewska brings to the table, you can really see how it affects the way Cleveland State plays. They forced the third-most turnovers in the Horizon League in the 2020-2021 season. A staple of their offense is the high-low game Zieniewska plays with fellow Viking Nadia Dumas. Zieniewska knows by doing this her opportunities to score will eventually come. 
This is just one side of the story for Zieniewska. She came to Cleveland State to be a student-athlete. When she is not playing basketball, she is working towards her degree in communications, enjoying walks around the city or listening to the hip-hop/pop artist Macklemore.
And none of this would have happened if Zieniewska's cousin hadn't joined her one day, many years ago, on a basketball tryout.
"I never had a current interest in basketball. I was always interested in sports," she mused. "My first coach came to my elementary school and he offered to girls to come to basketball practice. I really wanted to go but I did not want to go by myself, so my cousin went with me."
Fast forward to 2021 and Zieniewska's goal this season is to increase her basketball development while focusing on helping her team's bid to win the Horizon League tournament and go to the NCAA tournament.