Image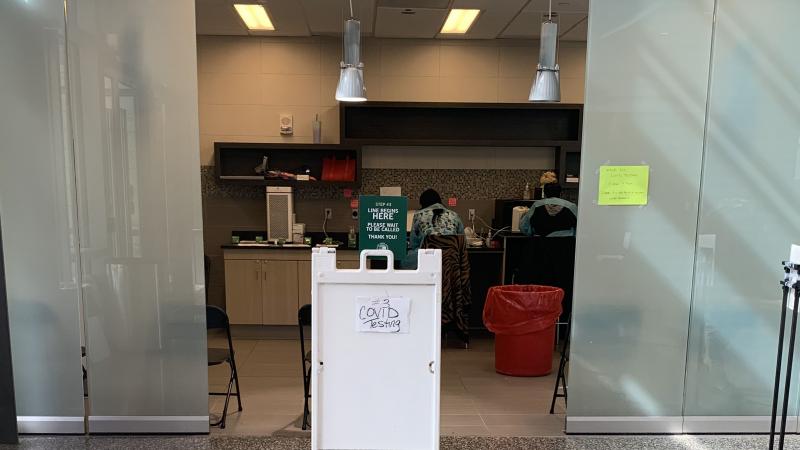 Credit: Andrea Strong
What do students think of CSU's random COVID-19 testing mandate?
Two students and staff members discuss required COVID testing.
While some schools don't require mandatory COVID-19 testing, Cleveland State University does require mandatory random testing for students taking classes on campus. 
"Each week, 5% of the students who have any class scheduled on campus are randomly selected from the total pool of students with classes scheduled on campus for COVID-19 testing," said Jonathan Wehner, Vice President and Dean of Admissions, Enrollment Manager and Student Success. "Students are typically notified by email Wednesday mornings, and asked to complete COVID-19 testing in the next 10 days." 
COVID-19 cases continue to spread across the state of Ohio and before the school year began, some school districts decided ways to track it, potentially slow the spread, and keep students and faculty members safe.
The spread of COVID-19 remains high in Cuyahoga County and in order to stop the spread, schools are taking the necessary precautions, such as recommending vaccinations, masking requirements and testing. 
So what do students make of the testing regime at CSU?
"I don't think students should be getting randomly selected to get a COVID-19 test and basically forced, otherwise we'll be marked as non-compliant and have to quarantine at home for 14 days," said a 20-year-old computer engineering major who chose to remain anonymous. "It just feels like all of our rights as Americans are being violated throughout this pandemic, but what other choice is it other than to comply?"
Student Kathleen Baker had a different perspective on the mandatory random testing.
"I think it's a great idea and more schools should make COVID-19 testing mandatory," said Baker, a 21-year-old biology major. "Many people are still not understand the severity of this virus and aren't believing the science that is being studied — therefore, I think randomly selecting students is a great way to keep our campus safe."
Wehner discusses the importance of random testing and the strategy behind it.
"Random sampling is important, because as we know, individuals can be infected with COVID-19 but be largely asymptomatic. If we want to try to have some understanding of the overall infection rate in the community it is important to not only test individuals with symptoms," said Wehner. "CSU conducts our testing protocol to compare the positivity rate on campus to that of the surrounding community and also to try to identify any outbreaks that may be occurring on campus."
CSU remains well below the local community for COVID cases with a rate less than half that of the local community.
"Our ambassadors report that mask compliance remains exceptionally high," said Forrest Faison, M.D., Sc.D, FAAP, Senior Vice President, Research and Innovation Chief, Health Strategy. "Our CSU community is taking this very seriously and the numbers prove it. They are doing what they need to do to help protect each other and ensure we can continue on campus." 
For more information on CSU's COVID-19 testing protocols and location, please visit https://www.csuohio.edu/safe-campus/testing-tracing.