Image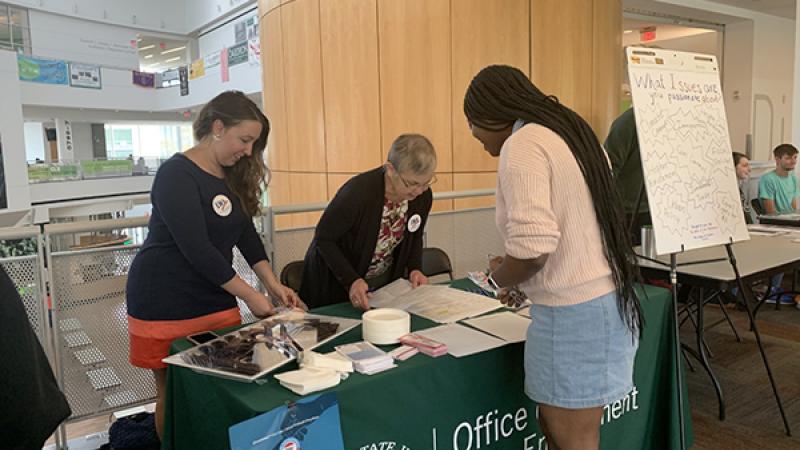 Photo courtesy of Anita Ruf-Young
Vikes Vote program will spur civic engagement among CSU students
Cleveland State University's Office of Civic Engagement (OCE) is committed to teaching students about the importance of voting and providing them with non-partisan information to guide their decision making. To raise civic engagement, the OCE will introduce a new curriculum called Vikes Vote to Introduction to University Life (ASC 101) in the Fall 2020 semester.
Developed by Program Coordinator Anita Ruf-Young, Vikes Vote will target first year students with the goal of creating lasting habits which will benefit them and their communities. People are much more likely to be life-long civically engaged citizens when they get involved during high school or college, according to Ruf-Young.
"They're much more likely to vote for the rest of their lives, be politically active for the rest of their lives," Ruf-Young said. "If you don't catch them now, they're much less likely to actually exercise their right to vote."
Upon the completion of the Vikes Vote program, Introduction to University Life students will be given voter registration cards if they wish to register. The curriculum also covers many ways to be civically engaged besides voting, such as volunteering for campaigns or going door to door for the 2020 census.
The Office of Civic Engagement has already registered or updated almost 700 Cleveland State students and faculty through voter registration tables and, once Vikes Vote rolls out in more than 50 Introduction to University Life sections in the fall, Ruf-Young says she expects that number to continue to grow.
"I want them to vote," she said. "I want them to be active in our community and in the political process, because that's something that affects us all."
The OCE is also trying to reach students on Twitter, where they will find information about registration deadlines, absentee ballots, and non-partisan information on candidates and issues. To learn more, follow @CSUcivic.