Image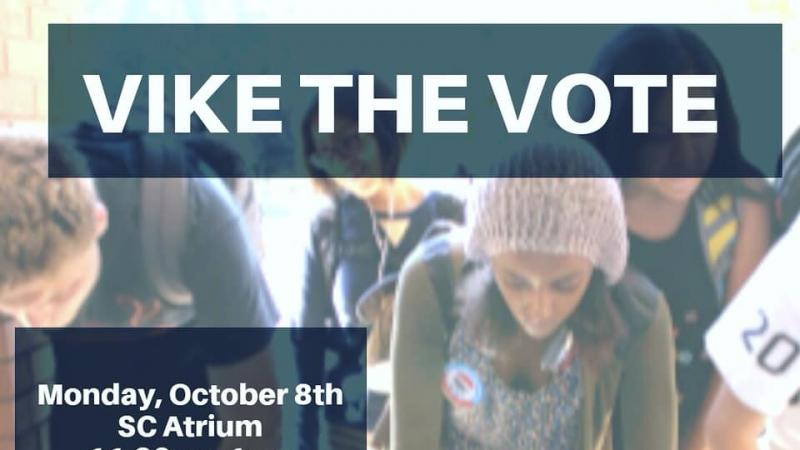 Credit: CSU Student Government Association / Facebook
The Student Government Association organized Vike the Vote!
The SGA-sponsored event was intended to get students to vote in the 2020 elections.
In anticipation of the 2020 election, Cleveland State University held a virtual event meant to advocate for students to go out and be excited about voting. The event was called "Vike the Vote" and it was held on Friday, Oct. 30 from 6–7:30 p.m.
During the event, organizers spoke about their personal experiences with voting, how they were planning on voting and invited guest speakers to talk about the importance of the vote. 
"It is my first time voting," said Renee Betterson, president of the Cleveland State University Student Government Association, the organizer of the event.  "It is always important, and with me growing up in the South, many African-Americans were afraid to vote. We have to always fight for the right to vote." 
On the school's website, the organization's mission is to "ensure that the welfare and educational interests of students are incorporated into the goals and policies of Cleveland State University." 
The event incorporated cameo videos from various celebrities, such as Nelson Franklin from HBO's Veep and Alyssa Edwards from RuPaul's Drag Race. 
"From the bottom of my Texas heart, I want all of you to vote!" Edwards said. "It is a privilege, a right and so important." 
The Keynote Speaker of the event was Justice Michael P. Donnelly of the Supreme Court of Ohio. It is his first term as Justice. 
"You are choosing what the government needs to focus on," Justice Donnelly explained. "You are the future of our democracy."
When addressing the students present at the event, he explained the importance of voting and why this election is so important for young people to take seriously. 
Throughout the event, raffles were given out that included prizes like a Cleveland State University mug, chapstick, T-shirt and face mask. 
The organizers played a video displaying student engagement throughout campus and the steps and importance of making a game plan for voting. 
"It is my first time voting in a presidential election," vice president of the SGA Hana Shaheen said. "It is so important that we use our voices." 
The event ended with a game of Kahoot where the attendees participated in a 23-question trivia showdown. The winner won a pair of AirPods. 
The purpose of the event was to encourage young voters to go out and share their opinions and let their voices be heard. With them being the future of democracy, according to Justice Donnelly, it is essential for students to go out and Vike the Vote!