Image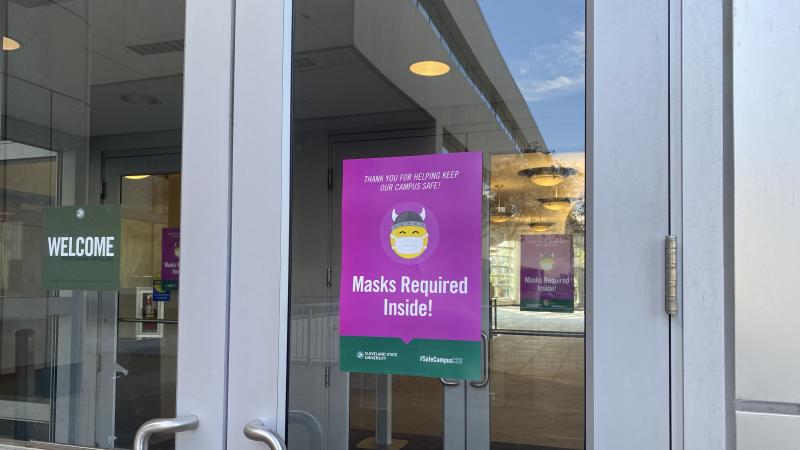 Credit: Sheila Kiss
Sophomores at CSU may feel like freshmen
While the spread of coronavirus seems far from over, the majority of second year students at CSU have moved on to campus and to in-person classes for the first time.
A large group of second year students at Cleveland State University haven't had a full year of on-campus living. As online courses were the only option for most students, the coronavirus pandemic denied last year's freshmen from having many on-campus experiences.
Most sophomores spent their first year at CSU witnessing lectures, labs and even tutoring, strictly over the phone or computer through interactive online meetings. 
Zoe Bailey, a biology major at CSU, faced a compilation of difficult circumstances attributed to the pandemic. 
"My senior year of high school left me with feelings of disappointment," Bailey said. "No prom was allowed and graduation was held virtually due to the COVID-19 outbreak."
Following high school graduation, Bailey missed out on what she'd hoped would be an escape from her hometown, Youngstown, Ohio, during the 2020-2021 academic year. While she was satisfied with her final grades, passing a test of patience was the achievement she was most proud of. 
"I was super excited to finally get a chance to live on my own and experience the campus lifestyle," she said. "Then, COVID-19 happened and I began to dread school as days went on." 
Because she is studying biology, Bailey had to make countless trips from home to campus for lab courses throughout her freshman year. 
"Living in the Cleveland Metropolitan area is very expensive compared to being at home," Bailey said. "However, it seems like much less of a hassle than driving up to campus everyday. I'll just be a little upset if the protocol conditions happen to reset." 
Bailey is just one of many second year students at CSU who feel as though they've been re-admitted to their first year at the university. 
While there may be more sophomores here at CSU with the same feelings as Bailey, some were able to make the most of their situation. 
Josh Vincent, a sophomore nursing major, spent his time living on campus last year. Although the monotony of Zoom classes was harsh for many students, Vincent still found ways to make his freshman year memorable.
"I know a lot of people who wanted to be in person so bad, but I really didn't think much of it, being online was actually a bit easier," Vincent said. 
Not having the ability to use the CSU Recreation Center, along with many other campus operations, surely kept freshmen longing for extra activities outside of classes. However, Vincent did whatever he could to ignore the fact that many options were closed. 
"I was still able to do a lot of things by myself, without engaging in contact with lots of friends at once or attending crowded events," Vincent said. "Ultimately, I feel like everything would've felt different if I wasn't living on campus, but I don't know how much it really could've negatively affected my adjustment to returning to campus." 
With no one to fault, those who may have suffered the loss of first year experiences on a college campus can only hope for a solution to the pandemic.
"I don't think it really feels like being a freshman again, but that could obviously be a result of me living on campus throughout the last year," Vincent said. 
And, as in-person classes return to regularity, second year students such as Vincent have begun to part-take in orderly social interactions. Some may feel like freshmen all over again, while others feel as though their path has not changed. 
"I know there's more students out there who are in the same position as me, probably even on a national scale," Bailey said. "But the only thing that we can do is continue to look forward."